Recently I visited the marina at LaSalle Park in Burlington Ontario. As I walked down the hill from the look off I could hear something that sounded like a Grade 8 band brass section warming up: pleasant notes but wavering a little bit off key. Then I saw the flock of over 50 Trumpeter Swans gathered around the main wharf. And almost all of them had two large yellow plastic-looking numbered tags sticking up from their wings. Was I just in time to witness some strange form of swan triathlon? Or why were the birds numbered?
A closer look at the swans showed that the group was a mixture of adult and juvenile birds. The younger birds still had the darker grey heads, necks and backs. The adults have white heads though they often are stained with rust from feeding underwater. Old or young, though, the yellow tags were everywhere.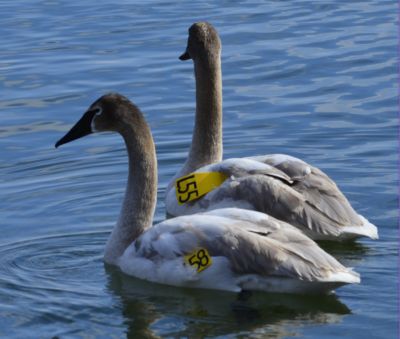 Why are the Trumpeter Swans at LaSalle Park on Lake Ontario and for How Long?
The Trumpeters are spending the winter at this spot. They like the open sheltered shallow water with lake vegetation to eat. They are also supported by daily grain (corn) deliveries. Because of their size, the swans need a long stretch of open water to take off and land. They also are territorial (more on this in another article!) and even while roosting for the winter need room to spread out from their fellow swans.
According to the Burlington Green website about 200 Trumpeters winter near the LaSalle Marina in Burlington each year.
The Trumpeters usually live at LaSalle from November until late March. They nest further north in Ontario. According to an article in the Toronto Star  their nesting grounds include the Wye Marsh, Kirkland Lake and North Bay. [http://www.thestar.com/news/ontario/2009/03/29/trumpeter_swans_making_a_comeback_in_ontario.html]
Why Are Trumpeter Swans so Uncommon Elsewhere in Ontario?
Trumpeter swans were extirpated (locally extinct) due to over-hunting. They have been gradually re-introduced to Ontario over the last 30 years from eggs taken from flocks in western Canada and Alaska.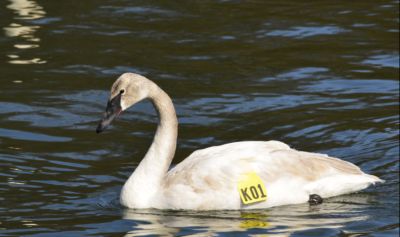 The newly introduced birds do not properly migrate. According to various sources, Trumpeter swans learn migration routes from their parents. Right now most Ontario Trumpeters stay in Ontario for the winter. Many of the ones that travel further south into the USA do not live to return.
Other places along Lake Ontario to see Trumpeter Swans in winter include Bluffer's Park, Frenchman's Bay, and Whitby Harbour, according to an article on the Trumpeter Swan Society site. [http://trumpeterswansociety.wordpress.com/tag/wing-tags/]
Why do the Trumpeter Swans Have Bright Yellow Wing Tags?
The bright yellow numbered wing tags mean the Trumpeters are from Ontario. They are tagged by volunteers, often when on their winter feeding grounds. For example, many are tagged right at LaSalle Park in Burlington.
The tags don't seem to bother the birds at all. You can see in this photo of a landing swan how the tags are loosely attached near the top of the wings.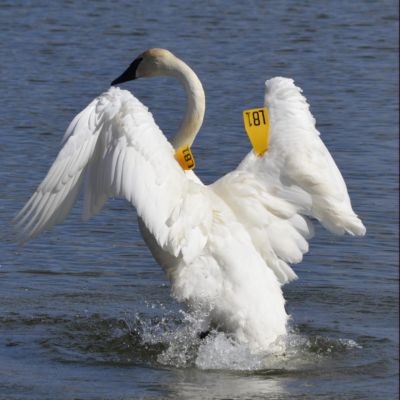 The tags allow scientists to monitor the birds. Records of kept of where the birds are seen, when, and their condition. Nesting success and the number of cygnets is also reported. Some birds have been tracked for more than 5 years returning to the same wintering sites.
By comparing the ratio of tagged birds to untagged birds, it's also possible for scientists to estimate how successfully the birds are reproducing in the wild. The number of tagged birds has been steadily dropping from which it has been inferred that the total number of birds is climbing. (http://trumpeterswansociety.wordpress.com/tag/wing-tags/)
You can watch a rather amazing video of a Trumpeter Swan being captured on the ice at LaSalle Park and banded on YouTube.

Reporting Tagged Swans
You can help by reporting tagged swans, especially those in less studied spots (e.g. not in LaSalle Park) to various places. Information on the number of swans, time and date, and location (preferably with GPS coordinates) is always helpful. Photos can help too.
You can send an email to Ontario Trumpeter Swan Restoration at: trumpeterswanREMOVE @REMOVE liveREMOVE.com
if you delete the three removes and the two empty spaces.
Their Facebook is called: Ontario Trumpeter Swans
You can report them to the Wye Marsh at
http://www.wyemarsh.com/conservation/swansightings.php
There are also instructions at
http://trumpeterswansociety.wordpress.com/2010/01/26/reporting-marked-or-banded-trumpeter-swans/
for reporting them at
http://www.pwrc.usgs.gov/BBL/bblretrv/
note there is a continue button on the left side that you click to get to the page/s where you report the sighting.
Related Reading
Join In
Have you seen Trumpeter Swans or only their more common Mute Swan cousins? Were the swans you saw tagged? Please share your experiences with a comment.