I've seen a bird almost as large as a Great Blue Heron several times in various marshes in southern Ontario over the past few years. I recognized them immediately because I had also seen them up close nesting in Orlando, Florida. These large white wading birds are Great Egrets but have they moved into Ontario to stay?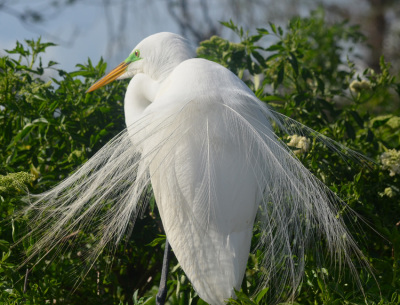 This Great Egret is in breeding plumage. The photo was taken in March in Orlando, Florida.
Were Great Egrets Native to Ontario in the Past?
According to the Cornell University AllAboutBirds website more "than 95 percent of the Great Egrets in North America were killed for their plumes in the late nineteenth and early twentieth centuries." That makes it a bit difficult to know exactly what the original populations were like and where they were distributed.
According to the Environment Canada website "counts in the Great Lakes have greatly increased since the 1970s, and the discovery of new colonies in southern Canada may reflect an ongoing northward expansion of the breeding range." That doesn't tell me whether they were nesting here historically but it is encouraging news.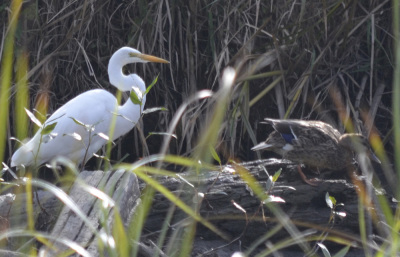 I noticed the Mallards moved quickly out of the way as the Great Egret stalked past them.
Why Am I Only Seeing One Great Egret?
Depending on when and where you see Great Egrets in Ontario you may see only a solitary bird. Great Egrets prefer to nest in colonies but, like Great Blue Herons, they often disperse to hunt.
Later in the summer and early fall, you may also see single birds that are transients. They are either southern birds that have finished nesting for the year and are out exploring or they may be northern birds who have not paired or nested successfully and have dispersed for the season. It's possible to see young birds, too, who are exploring new territories.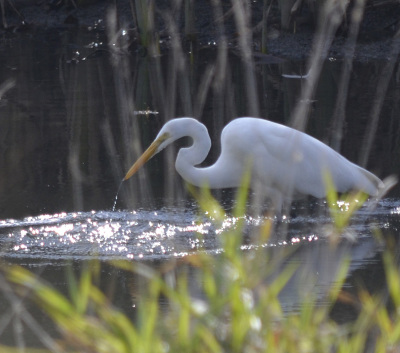 What Do Great Egrets Eat?
Like Great Blue Herons, Great Egrets eat pretty much anything they can catch. They eat lots of small fish and some frogs but will also eat insects, birds, turtles, snakes, and even small mammals if they can catch them.
If I Want to Find a Great Egret in Ontario Where Can I Go?
Two places that might have Great Egrets when you visit are the Luther Marsh Wildlife Management Area and Nottawasaga island. They are usually seen roosting at Luther Marsh in late June through September. You can also check ebird.org for recent sightings closer to you as small numbers of the birds nest and hunt in various parts of the province.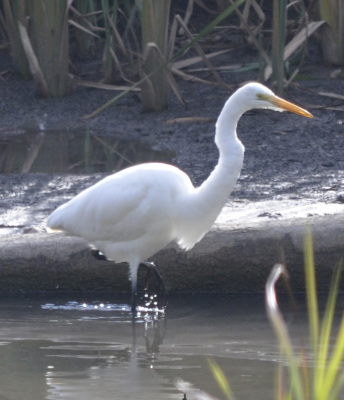 Where Can I Report a Sighting of a Tagged Great Egret?
There is a useful article on banding and tagging of Great Egrets in Ontario on the ebird.org website.  It provides an email address to report sightings of tagged birds. In particular, some birds have been marked with, relatively, huge tags to try to determine where they migrate to for the winter. Reports have been submitted of sightings of Ontario birds in Cuba, the Dominican Republic, Lesser Antilles and other hot spots.
Related Reading
Join In
Have you seen one of these large white birds pacing quietly through a marsh near you? Please share your sighting with a comment.