On Monday morning this week I was fortunate to get to explore a park along the shore of Lake Ontario under a tickseed-yellow sun and a cloudless sky. The calm, warm weather was appealing to the insects as well as me, and I saw 2 types of cicadas, 2 colour variations of Mantises, more than 5 Monarchs, and 3 types of dragonflies. (Plus a Hummingbird and a Nashville Warbler.) Near the parking lot, I saw a large black butterfly flapping its wings steadily as it fed in a patch of Bergamot; I thought it would be another Giant Swallowtail but I stepped closer to take its photo and watched in amazement as its wings turned iridescent metallic blue when their angle to the sun changed.
What Dark Swallowtail Has Metallic Blue Upper Wings and a Single Row of Orange Spots Underneath?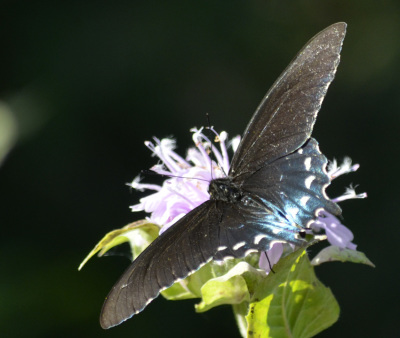 Sometimes, it only flashed a small amount of blue.
Immediately I started taking lots of photos of this unusual swallowtail.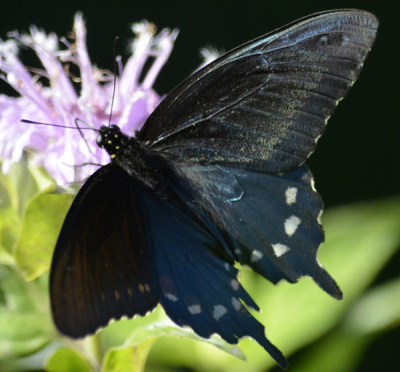 In some light, it looked basically black.
It obviously wasn't a Giant: it didn't have the large yellow marks in a line on the top of the dark wings. And Giant Swallowtails do not gleam blue when the light hits right.
I hoped, I admit, that it was a Pipevine Swallowtail. I'd heard of them before but never seen one.
Still, I knew the trick with most Swallowtails is getting a good look at both the upper and the underside of the wings. So I kept my shutter clicking.
This butterfly was fairly far away from me in the midst of a thicket of chest high goldenrod, Bergamot, thistles and burdock. I suspected that even if I tried to get closer, I'd just spook it into flying away.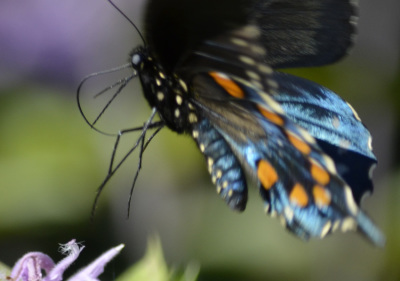 Usually it was fluttering like in this photo making it hard to capture.
It was difficult to get a clear shot of the underside of the wings, though. Like the Giant Swallowtails, this kind seemed to prefer feeding while hovering rather than perching. (I found out later on Bugguide.net that this behaviour is characteristic of Pipevine Swallowtails.)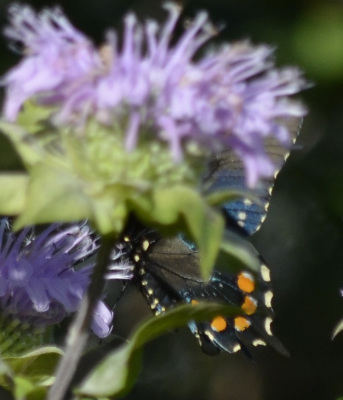 Or it would be hiding behind the flower like in this photo.
Eventually, I did get some photos of both the top and under sides of the wings. Good thing, too, because the butterfly decided to sail off to the south east. I didn't see any sign it intended to stop soon, nor did it return in the next ten minutes.
Last try: I never did get a good photo!
What Other Metallic Blue Butterfly is (More) Common in Southern Ontario?
I've written previously about my first encounter with a Red Spotted Purple variation of a White Admiral. They are also a lovely glittering blue. The ones I saw, however, were smaller than this Swallowtail.
What Other Ontario Swallowtail Butterflies are Large and Dark?
As I mentioned, the feeding behaviour was very similar to that of the Giant Swallowtail I wrote about earlier this summer. The markings, though, are quite different.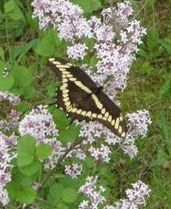 And a much calmer Swallowtail is the Black Swallowtail that is often seen laying eggs in Parsley and Carrot patches.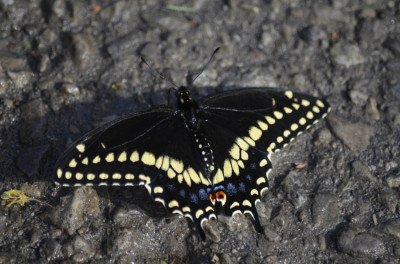 The dark phase female Tiger Swallowtail is a bit like it as is the female Diana Fritillary.
One I can't provide a photo of is another uncommon visitor: the Spicebush Swallowtail. Those have two rows of orange spots on the underwings, however.
Are Pipevine Swallowtails Common in Southern Ontario?
They haven't been. According to the Biodiversity website run by the federal government Pipevine Swallowtail incursions used to be reported more often than recently, though.
You can look at individual reported sightings on a map on the Ontario Insects website. Click on the square of interest, then click on the Newest to Oldest link to see a list of the sightings. 2012 seems to have been a good year for Toronto sightings.
What Do Pipevine Swallowtails Eat?
Well, the adult I saw was trying to get nectar from the Bergamot. Judging by how long it stayed, I think it was succeeding.
According to BugGuide.net, the caterpillars often eat a plant called (of course) Pipevine. It's sometimes also called Dutchman's Pipe but it's not the same plant that I call Dutchmans' Pipes which is a strange plant that has no chlorophyll.
The caterpillars also eat other plants in the Aristolochia family and Virginia Snakeroot.
Eating these plants allows the caterpillars to accumulate toxins that make them unpalatable to birds even as adult butterflies. This is a similar protection mechanism to that of Monarchs which feed on milkweeds.
The mimicry of other butterflies of the colouring of Pipevine Swallowtails is believed to be an attempt to scare off birds.
Related Reading
Join In
Have you ever seen one of these brilliant blue, but sometimes black, beauties? Were you able to see the underside of the wings clearly to be sure it wasn't one of the mimics such as the Spicebush Swallowtail? Please share your experience with a comment.