Although the temperature keeps climbing into the low thirties, getting up in the dark tells me that summer is almost over. I took advantage of a recent chance to visit the Rattray Marsh hoping to see some of the summer birds before they wing their way south. I was pleased with the variety of birds to be seen and the occasional butterfly brightened up the walk, too.
Song birds Skulk Amidst the Cow Parsnip Patch

This Ruby-throated Hummingbird paused in the sun to warm up.
I spent almost a half-hour watching and admiring the birds near the downstream bridge over Sheridan Creek. Different types kept popping in and flitting up onto dead branches before diving back down into the thickets. A group of at least 7 Grey Catbirds kept me company the whole time filling in any gaps in the avian entertainment with their odd collection of calls.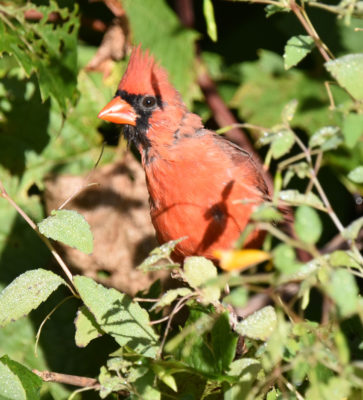 The Northern Cardinals will stay for the winter.

Grey Catbirds move south. This group was very restless, popping up to preen, call and chase each other around.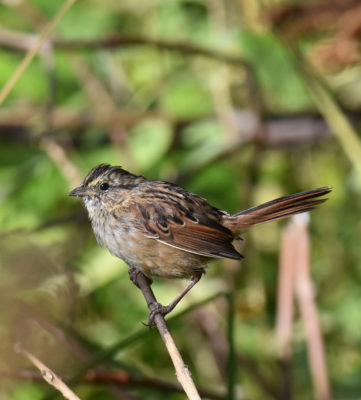 I think this is a young Swamp Sparrow. There were also Song Sparrows nearby. I haven't seen any of the White-throated Sparrows that will come through in huge flocks in early fall.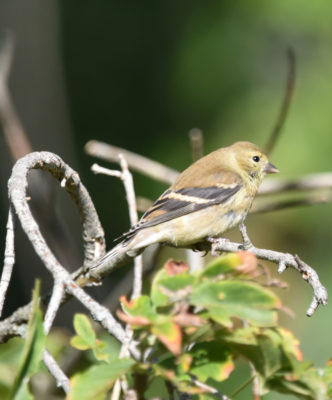 Most of the American Goldfinches were drab like this one but there was one bright yellow and black male.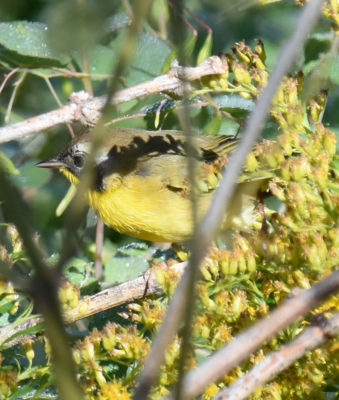 This bright yellow is on a male Common Yellowthroat not a Goldfinch. It took a minute to get a clear line of sight to be sure, though. Yellowthroats often like to hunt in between branches and under shrubs rather than out in the open.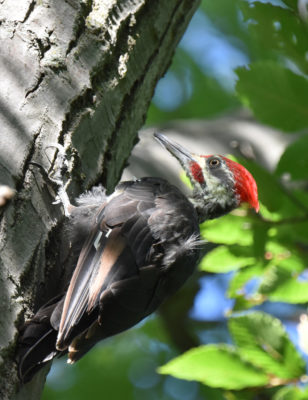 This male Pileated Woodpecker flew in nearby so I followed him for some photos before moving back to the bridge. He'll stay year-round but isn't as easy to find as you might expect for such a large bird.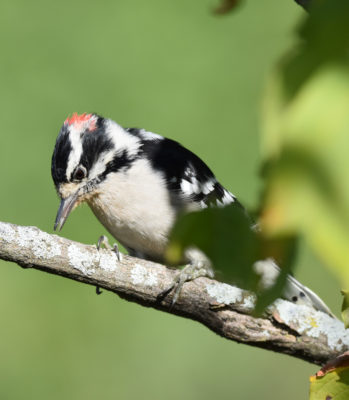 This male Downy Woodpecker is the smallest woodpecker that lives year-round at the Rattray. Two other Downys flew into this tree a moment later then all three flew off in a huff.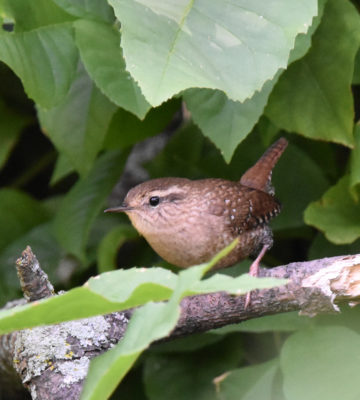 A Wren was another unexpected surprise.
Ambling Along the Beach at Jack Darling Park
The weather was so lovely, I kept walking through the Rattray and out along the Lake to Jack Darling park. At the far end (the east side) of the park, there is a small beach which is privately owned. From the limestone blocks marking the end of the public park, I could see a small flock of sandpipers working there way along this beach. I sat and watched them for almost fifteen minutes as they flirted with the waves and probed among the pebbles.

Then I looked up and saw what looked like a Lancaster Bomber flying past. I had heard there was to be an airshow in London Ontario that weekend, so it may have been en route.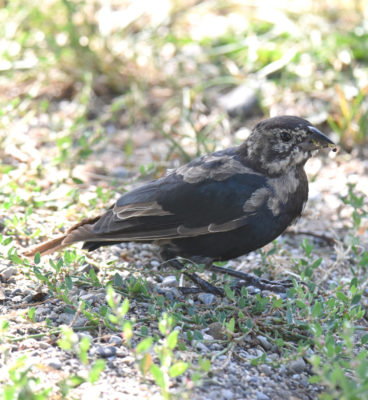 It took me a few seconds to figure out what a couple of Juvenile Brown-headed Cowbirds were because their colours were so mixed-up.
What Birds Were Enjoying the Lagoon at the Rattray Marsh?
I walked out along the edge of the Lake to peek in near the outlet to the lagoon. The deer carcass is basically skin and bone so it now seemed safe from a coyote-risk viewpoint. I kept a wary eye and ear open, though, and stayed well back from that area.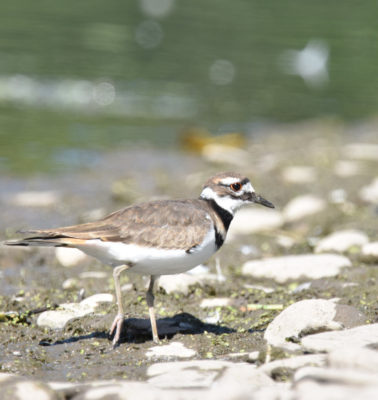 One of the 8 or more Killdeer flew to my side of the water and hunted briskly along the edge.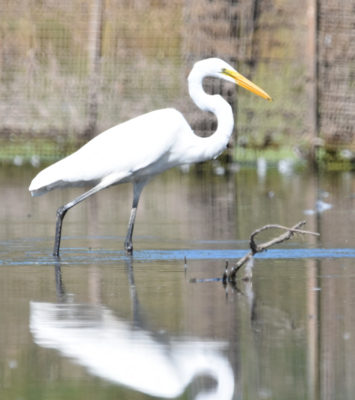 One Great Egret also kept pacing along the carp fence. A Great Blue Heron hunted on the other side of the fence. And a female Belted Kingfisher perched right on top of a fence post while deciding where to go next.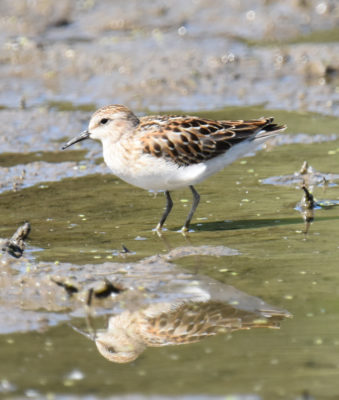 A single Least Sandpiper poked and preened on the mud flats.
A Common Buckeye Basks in the September Sunshine at Jack Darling Park in Mississauga
There have been some reports of Common Buckeye and other southern butterflies along Lake Ontario and Lake Erie late this summer. I wanted to see one but didn't really want to drive down near Hamilton to hunt for a creature that isn't limited to a small breeding area but instead is just being seen as it flies on explorations around the Lake. So I thought I would check the small Prairie Garden in Jack Darling park and hope for the best.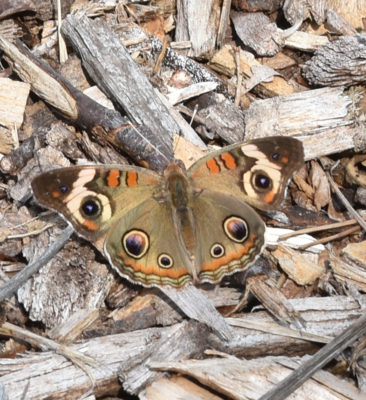 I was pleased to find this one Common Buckeye and snap a quick photo. It flew while I was changing lenses and I never found it again! I even checked that area again later in the week with no success. Ah well, at least I got one good look! And there will always be next summer to see both butterflies and birds again before they vanish to the south.
Related Reading
Join In
Have you seen any interesting late summer migrants? Please share your views with a comment.