One of the wonderful things about children is they find things on the road and bring them to you, like cigarette butts, sparkling gold nuggets, and this Waved Sphinx Moth Caterpillar. One late afternoon in mid-August we were out for a ramble along a dirt track near Sharbot Lake, Ontario, when my daughter spotted this creature crossing the ruts.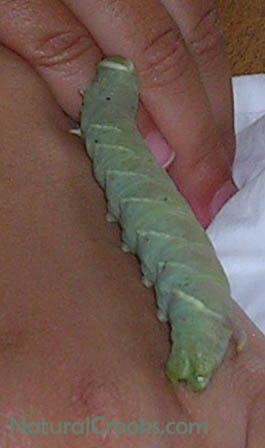 My first reaction was that it looks more like a green pinecone than these photos suggest. It would not be particularly eye catching in the leaf and needle litter under the trees.  However on a brown sandy strip of road, it was a bit more obvious. Especially since it was several inches long and as fat as a highlighter.
We brought it inside to get some good photos to help with identification later. It reminded me of the giant caterpillars you sometimes get on tomato plants, called Tomato or Tobacco Hornworms. I suspected, given the lack of any tomatoes or tobacco plants for several dozen miles that it was more likely a relative of some kind.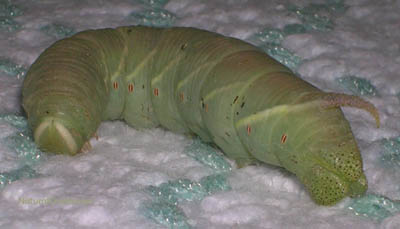 After shooting up a storm that would make the paparazzi proud, we took it back outside. Although we should have taken it back to the exact spot, it was now close to dusk. Instead, we placed it on the ground under the same types of trees that had been on either side of the road where it was crossing.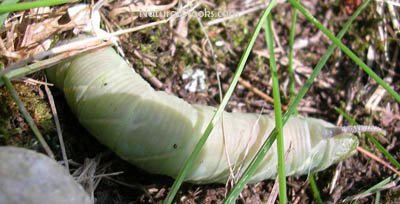 Within seconds, it began to dig its way underground. In a minute, it was gone.
Later, when back in the land of internet connections and library books, we found the caterpillar looked most like those of the Waved Sphinx. The adult moth is rather drab and bark-like. Certainly sphinx moths are not uncommon in those woods, so that's probably what it was.

We weren't at that location the following June. But hopefully, if we had been, we might have seen it re-emerge after its winter slumber: and fly off into the evening sky as a Waved Sphinx moth.
Join In
Have you found a giant caterpillar in your rambles? Was it a tobacco hornworm, a cecropia moth larva, or perhaps one of these Waved Sphinx youngsters? Please share your finds with a comment.