Near the end of March, I took advantage of a sunny, if somewhat cold, spring morning to amble along the shore at Lasalle Park in Burlington. The tree-covered slopes of the park sheltered the edge of the lake making a warm, calm, sunny strip of land for the wildlife and the watchers to enjoy.
First Flowers of Spring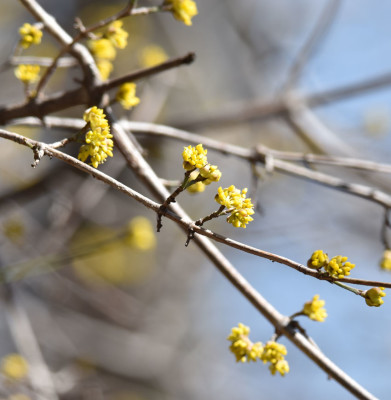 The trees and shrubs were starting to bloom. And in the wet, muddy flats along the boardwalk, the Skunk Cabbage were too.
And the honeysuckle bushes had tender green leaves unfurling!
Winter Ducks Still Diving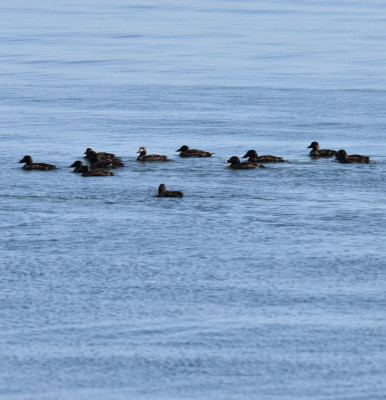 There was a large flock of White-winged Scoters on the Lake. They weren't scattered around casually diving, though. Instead, they were tightly grouped and swimming quickly on the surface. After a second, almost the entire group would dive at the same time. I've usually seen these birds eating Zebra Mussels but this type of diving suggested they were following a school of fish. It's possible they were, too. According to the Cornell University website, they do occasionally eat fish.
There were noticeably fewer Common Goldeneye and Bufflehead. Six Red-breasted Mergansers were still here, though. And Ring-necked Ducks and Horned Grebes were new arrivals for spring.
Several pairs of Gadwall were loafing around and some were actively feeding. If you look at the close-up of this one, you may be able to see the tiny midge or gnat it's about to scoop up off the surface of the water.
Kinglets Busily Tidying the Forest Edge
The Gadwall wasn't the only bird interested in the newly hatching insects. A flock of Golden-crowned Kinglets patrolled up and down the edge of the lake. Rarely perching for longer than a second, they were both catching insects in flight from the swarms in warm, sunny spot, and investigating each twig on the shrubs for any resting bugs.
I saw one Kinglet find what appeared to be a small chrysalis. It banged it against a twig either to shake it free from a covering or to soften it up, then gulped it down.
Local Resident Birds Get on With Spring Cleaning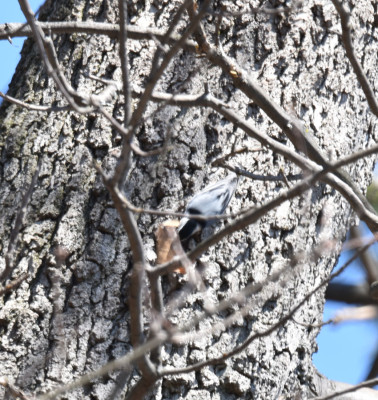 One of a pair of White-breasted Nuthatches was also tidying. Another birder pointed out to me the source of the occasional dried brown leaf wafting down across the path: The Nuthatch was taking leaves out, one at a time, from a knot hole. It would carry them about a foot down the trunk, then let them go to drift away.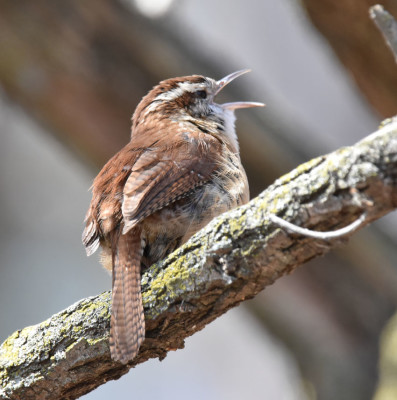 A Carolina Wren was also singing with the woods-ringing song that always make me think they are further away than they are. I stopped to take its picture and when I did, I realized that each time a dog led its owners past, the Wren would stop singing and only start again when they were past.
Small Mammals Emerge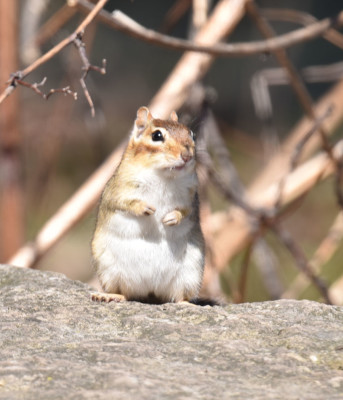 This Chipmunk bounded up out of its tunnel only to stop in surprise at seeing me standing there watching it. There were several Chipmunks in various parts of the park, all making way more noise than you'd expect from such a small animal.
I also saw one of the mouse-vole-shrew type creatures that refuse to pose for me. It dove down the hill and under a pile of leaves collected at the hollow between two large limestone blocks along the path edge. It had a dark grey back but its identity will remain a mystery.
I'll just have to keep coming back; maybe some day, I'll get a longer look, and in the meantime, there's always something interesting to see.
Related Reading
Join In
Have you seen any signs of spring? Please share your views with a comment.