For many Canadians, spring begins the first time they see a robin or hear one singing "chip chip cheerio, jam on toast!" from their rooftop or their tree. Here in the deep south of Ontario, however, you might see that familiar flash of rusty-red or hear that quarrelsome twitter of a bird chasing away a competitor even in the bleakness of January. Do Robins stay the winter here?
Yes!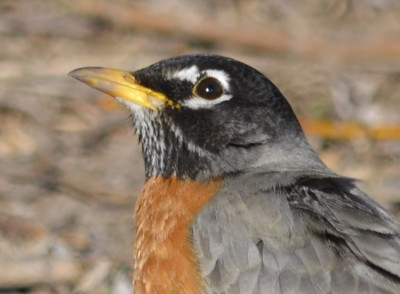 Did you know robins have brown eyes? Me neither.
In fact, there are probably several thousand robins that over-winter in the Toronto area. They seem to manage in two ways.
Flock for Safety, Defend for December
Many, perhaps most, of the robins form flocks. They live in sheltered spots in parks and Toronto's famous ravines. Moving as a group, they search for fruit trees including ornamental crabapple trees and rowan or mountain ash trees from which to feed. With the ground frozen the supply of earthworms and other insects is unavailable.
Others, like our valiant male robin, stay on territory all winter. Our robin perches day (and possibly night) in our ornamental crab tree. (Yes, the same tree the Red Breasted Nuthatches are considering nesting in this spring.) He lives mostly off the fruit from the tree.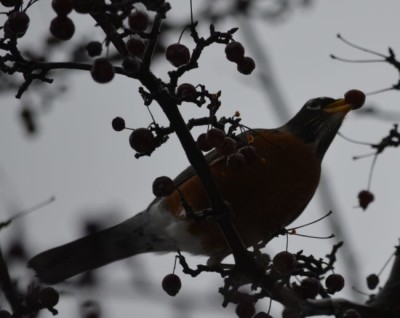 (This is one of the invaders, not our robin.)
Occasionally, a flock of robins will arrive intending to strip his tree of fruit. Single-wingedly, he will try to drive them away. Diving aggressively at bird after bird, he will fly for 10 to 15 minutes before he pauses for a rest. Only the birds feeding in the tree face his wrath. Those eating dropped crabapples off the ground are left unchallenged.
I've been known to help a bit because I feel so sympathetic to his desperation. If I go stand near the tree, the visiting robins will take wing. My male, however, is very comfortable with us coming and going beneath him, and he will sit in the tree, watching in what I think might be relief.
Isn't Over-wintering Risky for Robins
The vigour with which our male defends his one reliable source of food is a sign of just how risky it is to over winter in Ontario. Without a steady supply of food, the robins will lack the ability to stay warm during the cold winter nights of January and February. Fruit is also not particularly high in energy, so the robins must eat a lot of it.
Migration itself, though, is also high risk. It's estimated by the Minnesota Department of Natural Resources that 20-30 percent of hatch year migrating birds die on the trip.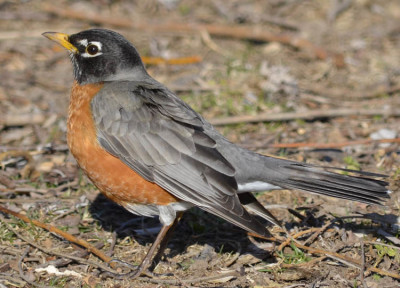 Another obvious advantage is that when spring does arrive, the birds that stayed here will be first to choose their territories, find mates, and start a brood. For a bird like a robin that nests several times during the spring, summer and early fall, even a week's head start gives it a chance to produce more healthy offspring than a competitor.
Why Don't They Visit My Feeder?
Unlike most of our winter birds, robins do not apparently eat seeds. The black oil sunflower seeds that provide such nutritious bursts of fat and protein to the chickadees, nuthatches and woodpeckers are not of interest to the robins.
I've often wondered if I put out a tray of meal worms, though, whether the robin would feast on them. Maybe some day I'll experiment.
Winter Resident or Spring Arrival Robins are Warmly Welcomed
Whether they stayed the winter or not, the sight of robins busily hunting in the lawns, or running rapidly ahead of us, never realizing if they ran to the side they'd be safe and could stop running, is welcome. Their cheerful colouring and ambitious if unmusical songs brighten many a gloomy April morning.
Related Reading
Join In
Do you have a resident robin? Or do you mark the official start of spring on the day when the robins first arrive back in your neighbourhood? Please share your experiences with a comment.