In mid-June I started paying attention to the many butterflies and moths that were enjoying the flowering shrubs. One really caught my eye though: it had a shiny, turquoise blue body and very plain dark wings. The first one I watched kept flying between a flowering shrub and a nearby conifer tree. Eventually I got a good look at it (and some photos) so I could identify it as a Virginia Ctenucha Moth.
Do Moths Only Fly at Night?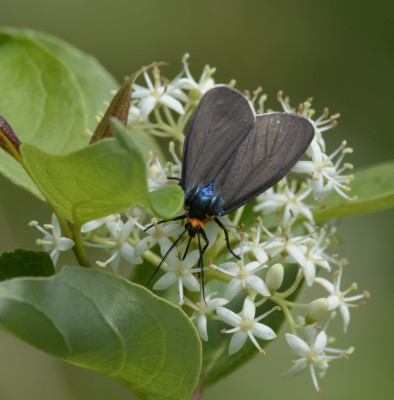 Nope. That's one of the many things that make it tricky for me to know whether to look for a new winged wonder in my Peterson Field Guide to Moths or my ROM Guide to the Butterflies of Ontario.
Yes, I know butterflies usually perch with their wings closed held up over their backs. So how come I keep getting great photos of everything from Swallowtails to Little Satyrs with their wings spread flat out to admire?
Yes, I understand that butterflies usually have "club" ends to their antenna and moths usually have "feathery" antenna. When an insect is flying past at a zillion kilometers an hour, though, I can't usually see the antenna at all.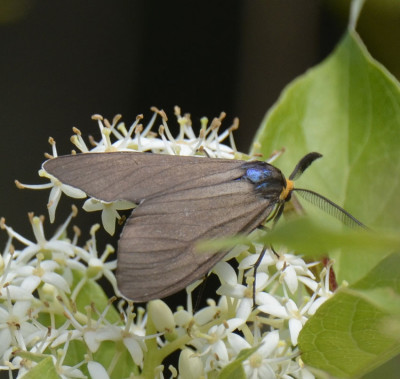 You can see this Ctenucha's feathery antenna.
Anyway, to my surprise, this showy creature was a day-flying moth, mingling happily with all other sorts of butterflies, including Cabbage Whites, Little Wood Satyrs, Red Admirals and even a few Hairstreaks.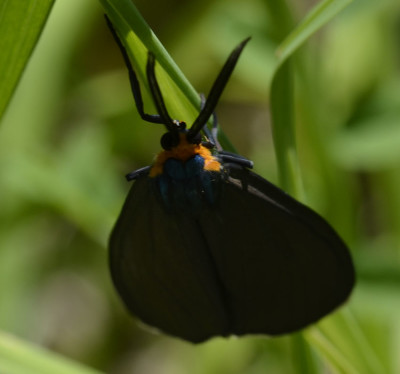 These moths can look very black in certain lights.
Does the Virginia Ctenucha Live on Virginia Creeper?
The first of these moths that I saw were in an area with lots of Virginia Creeper vines.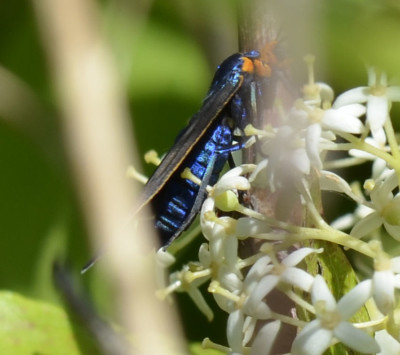 The electric blue body is very noticeable especially in flight.
Apparently that has nothing to do with the name, though. This Ctenuchas' caterpillars like to eat grasses, sedges and iris, according to BugGuide.net.
As I saw, the moths like to take nectar from flowers.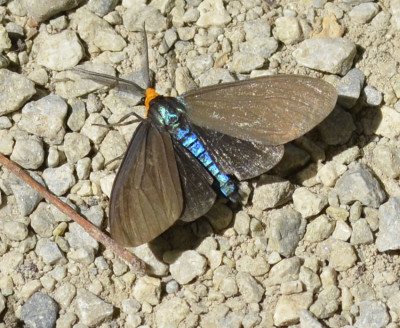 This particular Ctenucha was apparently gathering minerals from the path.
Virginia Ctenucha can be found in the state of Virginia. They are also found in all of the Canadian provinces.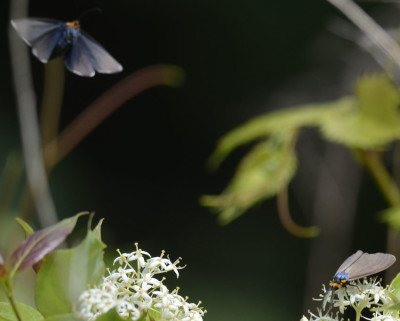 This shows that in flight you may see some of the white edging on the wings and the blue and orange colouring.
I quite enjoyed seeing these moths and just when I was getting used to them, they vanished. I'm not sure if we will get two batches of adults in this area, so I'll have to keep my eyes open over July and August for reappearance.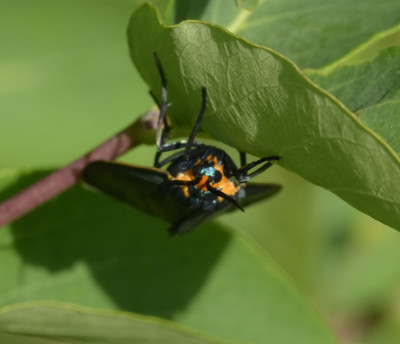 When the Ctenuchas are moving around plants sometimes the orange near the front end is very noticeable.
Related Reading
Leconte's Haploa Moth Brightens Up a Dull Leaf
Join In
Have you seen one of these moths with the startlingly blue body? Please share your sighting with a comment.