While merganser watching at Arkendo Park, I kept noticing a couple of rather nondescript female ducks diving steadily away near shore but a good few hundred metres from me. It wasn't till I walked along the entire path beside Lake Ontario that I met the males and confirmed that these were Common Goldeneye.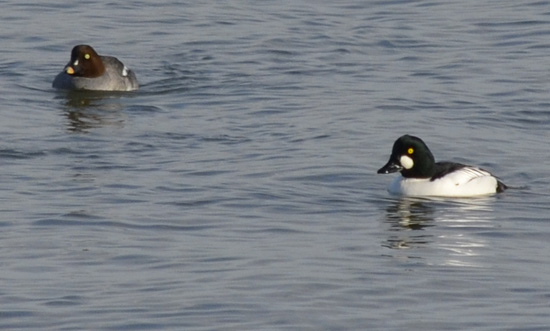 The male Goldeneye, besides the very obvious yellow-gold eyes, has a head that looks black until the sun catches the feathers. Then it shades into irridescent green. It's not as brightly green as a mallard, but it still looks sharp.
The females have quite an interesting two-toned beak. At first I thought I was imagining it, until I realized that ALL of the females had that glowing patch of yellow.
These ducks were diving steadily. A check at home of the information on the Cornell University site said that Goldeneye eat aquatic invertebrates. That didn't exactly tell me what they were feeding on. So I checked a University of Michigan site. It said that although they eat aquatic insects during the breeding season, in the winter they more often live off of fish, crustaceans and mollusks. A bit more hunting around suggested that they will eat zebra mussels.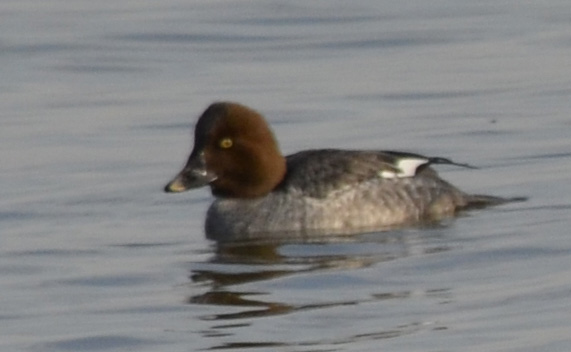 I also discovered at home that the immature ducks look somewhat like the females. So possibly some of the Goldeneye I was watching were juvenile males, not females.
Further Reading
Join In
Have you seen Common Goldeneye males try to wow the females with their heads? I haven't seen it yet, so I'll be watching for it. Please share your experiences with a comment.