I've been slowly working through my photos of butterflies and moths and trying to correctly identify them with the help of e-Butterfly, an online butterfly sighting reporting website, BugGuide.net, the ROM Field Guide to Butterflies of Ontario and the Peterson Field Guide to Moths of Northeastern North America. It's been an adventure because although I knew that I was seeing different types of skippers and moths, I wasn't sure what types they were. So I'm going to post some of my identified photos here for anyone else who is curious about what types of butterflies and moths can be found in Mississauga, Oakville and nearby areas.
This post will be updated as I make new finds either in the wild or in my older photos!
Many photos can be seen at a larger size by clicking on them.
Photographs of Butterflies and Moths of Mississauga and Oakville Ontario
Eastern Tiger Swallowtail
Clouded Sulphur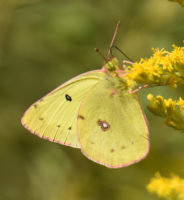 Orange Sulphur
 Cabbage White
Elm Spanworm Moth
White Slant Line Moth
Delicate Cycnia Moth
Monarch

Viceroy
Compton Tortoiseshell
Eastern Comma
Question Mark
American Lady
Painted Lady
The Painted Lady and American lady butterflies look very similar. On the underside the American Lady only  has two large eye dots on the hind wing. On the top side, the "eyes" on the hind wings of the American Lady are larger and often blue or purple. There are other differences which a good guide like the ROM Field Guide to Butterflies of Ontario will point out.
Baltimore Checkerspot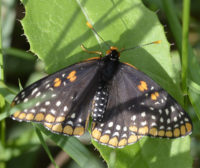 Crossline Skipper
Delaware Skipper
European Skipper
Least Skipper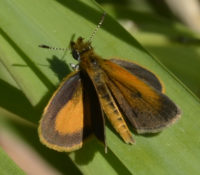 Hobomok Skipper
Peck's Skipper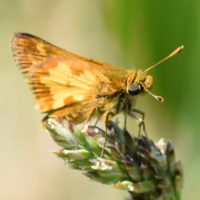 Northern Crescent
Pearl Crescent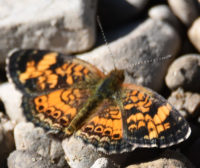 Red Admiral
Grapevine Epimenis Moth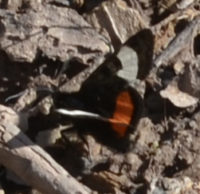 Hummingbird Clearwing Moth
Snowberry Clearwing Moth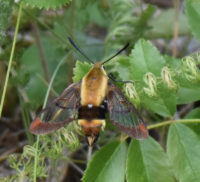 Common Buckeye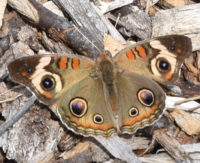 Common Wood Nymph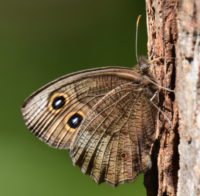 Common Ringlet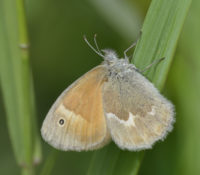 Mourning Cloak
Northern Pearly-eye
Little Wood Satyr
Banded Hairstreak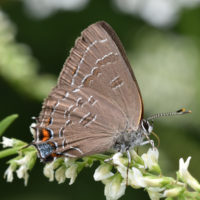 Hickory Hairstreak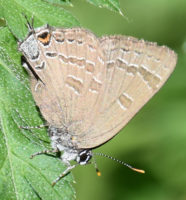 Dun Skipper
Northern Cloudywing Skipper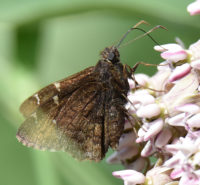 Northern Broken dash Skipper
Silver-spotted Skipper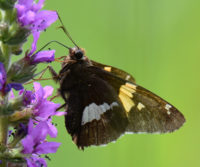 Juvenal's Duskywing
Wild Indigo Duskywing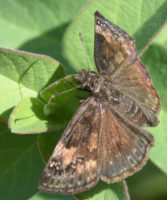 Black Swallowtail
Red-spotted Purple (White Admiral)
Virginia Ctenucha Moth
White Spotted Sable Moth
White-Striped Black Moth
Azure species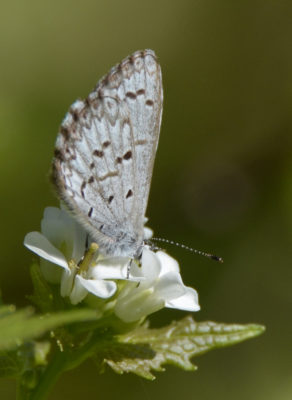 Eastern Tailed Blue
Silvery Blue
Green Pug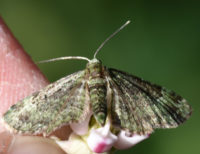 Pale Beauty Moth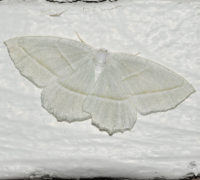 Plume Moth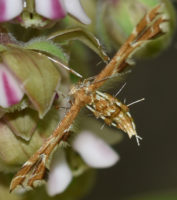 Possibly Grape Plume Moth.
Butterflies and Moths Seen at Sheridan Meadows, Mississauga Ontario
This is a semi-wild area adjacent to a public bicycle path through an old hydro right of way that runs parallel to and south of Dundas street from Erin Mills Parkway to Winston Churchill Boulevard. Be aware of the Dog Ticks.
Banded Hairstreak July 9, 10, 19
Black Swallowtail May 24, July 19
Cabbage White May 24, July 10, 19
Clouded Sulphur July 9
Common Wood Nymph July 9, 10, 19
Dun Skipper July 10
Eastern Tailed Blue May 24, July 9, 10
European Skipper July 10
Juvenal's Duskywing May 24
Little Wood Satyr July 9, 10
Monarch May 24, July 10
Northern Crescent May 24, July 9, 10, 19
Pearl Crescent May 24
Northern Broken-dash skipper July 9
Orange Sulphur July 9
Silvery Blue May 24
Snowberry Clearwing Moth, July 9
Wild Indigo Duskywing May 24
Butterflies and Moths Seen at the Riverwood Conservancy, Mississauga Ontario
American Lady April 27
Azure possibly Spring April 27, 28, May 24, 27, 31, June 1, 11
Baltimore Checkerspot June 26
Banded Hairstreak July 18
Black Swallowtail May 28, July 30
Cabbage White March 29, April 17, 28, May 20, 24, 28, 31, June 1, 2, 5, 15, 21, 26, July 3, 4, 11, 18, 20, September 2, 12, 20
Clouded Sulphur July 11
Clover or Forage Looper Moth
Common Wood Nymph July 18, 20
Common Ringlet May 31, June 1, 15
Compton Tortoiseshell March 29, April 5, 8, 10,  July 3, 4, 11
Delicate Cycnia moth June 15

Delaware Skipper, July 18
Dun Skipper July 18
Duskywing probably Wild Indigo May 20, 24, 25, 27, 31, June 1, 12, July 11
Eastern Comma April 10, May 20, 31, June 3, 12, July 3, 4, 11, 18, 20
Eastern Tailed Blue May 28, 29, June 1, 21
Eastern Tent Caterpillar
Eastern Tiger Swallowtail May 20, 23, 24, 27, 31,  June 1, 2, 3, 8, 11, 12, 16, 21 July 20
European Skipper June 10, 11, 15, 16, 21, 23, July 3
Fall Cankerworm Moth
Forest Tent Caterpillar Moth
Grapeleaf Skeletonizer Moth

Grapevine Epimenis Moth April 27
Gypsy Moth
Haploa Confusa Moth
Hickory Hairstreak July 4, 20
Hobomok Skipper June 1, 3, 6, 11, 12, 15, 16. 21, 23
Indigo Duskywing June 3, 6, 10
Juvenal's Duskywing May 28, 29, June 1, 2, 3
Least Skipper June 6
Little Wood Satyr June 10, 11, 12, 15, 16, 21 July 4
Milkweed Tussock Moth
Monarch May 31, June 2, 26, July 18, August 3, September 12, October 5
Mourning Cloak March 21, April 10, 11, 17, 27, May 18, 20, July 3, 4, 11
Northern Crescent May 28, June 2
Northern Broken Dash Skipper July 18
Northern Pearly-eye July 3, 4, 11, 20, 30
Orange Sulphur May 24, 25, 28, 29, 31, June 1, 2, July 11, 18, 20
Painted Lady June 3
Pale Beauty Moth June 11
Pearl Crescent September 2
Peck's Skipper June 5, 11
Question Mark June 1, 2
Red Admiral April 10, 17, 27, 28, May 20, 27, 28, 31, June 1, 2, 3, 6, 11, 15, 16, 21, July 4, 11, 18, 20
Red-spotted Purple (White Admiral) June 15
Silver-spotted Skipper June 15, July 18, 20
Silvery Blue May 20, 28, 29, 31, June 1, 2, 3, 6, 7, 11
Spring Cankerworm Moth
Tawny-edged Skipper June 11
Virginia Ctenucha Moth
White Slant Line Moth June 11
White Spotted Sable Moth
White-striped Black Moth
Wild Indigo Duskywing skipper May 28, June 1, 2, 3, 26, July 18, 20, 30
Butterflies and Moths Seen at the Rattray Marsh and Adjacent Jack Darling Park, Mississauga Ontario
American Lady July 7
Black Swallowtail May 29, June 4, August 5
Cabbage White June 17, July 7, 29, August 5, September 13, 30, October 11, 19
Clouded Sulphur September 13, 16
Common Buckeye at Jack Darling Park September 13 2016
Duskywing, some probably Wild Indigo May 26, 29, June 4, September 16
Eastern Comma June 28
Eastern Tailed Blue September 13
Eastern Tiger Swallowtail May 26, June 4, 17, August 5
Monarch August 5, September 30, October 3, 19
Mourning Cloak  April 9, June 17
Orange Sulphur at Jack Darling Park September 13, 16
Peck's Skipper August 5
Viceroy July 29
Virginia Ctenucha Moth
Wild Indigo Duskywing September 13
Butterflies and Moths Seen at Lakeside Park, Mississauga Ontario
American Lady, April 28
Azure, possibly Spring Azure, April 28, May 8
Cabbage White April 28, May 8
Mourning Cloak, April 28
Red Admiral, April 28
Butterflies and Moths Seen at the J.C. Saddington Park, Mississauga Ontario
Cabbage White September 25
Viceroy September 25
Butterflies and Moths Seen at Lion's Valley Park, (16 Mile Creek), Oakville Ontario
Banded Hairstreak June 22
Cabbage White April 18, June 22, 26 July 5
Crossline Skipper June 26
Virginia Ctenucha Moth
Eastern Comma July 5
Eastern Tiger Swallowtail June 14
Elm Spanworm Moth, July 5
European Skipper June 14, 26
Grapevine Epimenis Moth
Green Pug Moth, June 26
Little Wood Satyr June 14, 22, July 5
Mourning Cloak April 18, June 14
Northern Broken-dash skipper June 26
Northern Cloudywing July 5
Peck's Skipper May 30
Plume Moth, possibly Grape Plume moth, June 26
Red-spotted Purple (White Admiral) June 14, 26
Viceroy June 14
Butterflies and Moths Seen at Bronte Creek Provincial Park, Oakville Ontario
Cabbage White July 15
Common Ringlet June 13
Common Wood Nymph July 15
Virginia Ctenucha Moth June 13

Delaware Skipper July 15
Duskywing, possibly Wild Indigo, July 15
Eastern Comma July 15
Hobomok Skipper June 13
Hummingbird Clearwing Moth July 15
Least Skipper June 15
Little Wood Satyr June 13
Monarch June 13
Mourning Cloak July 15
Northern Pearly Eye July 15
Red Admiral July 15
Red-spotted Purple (White Admiral) July 15
Silver-spotted Skipper July 15
Silvery Blue June 15