One of the advantages of a nature ramble with a leader and some skilled observers is you see things you might otherwise overlook. I joined the Toronto Field Naturalists on a recent March ramble at Colonel Sam Smith Park in Toronto, Ontario. At one point, we stopped to look at a large flock of Bufflehead and Long Tailed ducks. Our outing leader knew something I didn't: one of those Buffleheads wasn't the same. Unlike the others, one was a male Harlequin duck.

Can you spot the Harlequin?
The birds were quite far from where we were watching so it took a minute, even knowing the Harlequin was there, to find him. I knew it would not have the large bright white patch on the head that the male Buffleheads have, so I focused my attention on the darker females.
There it was!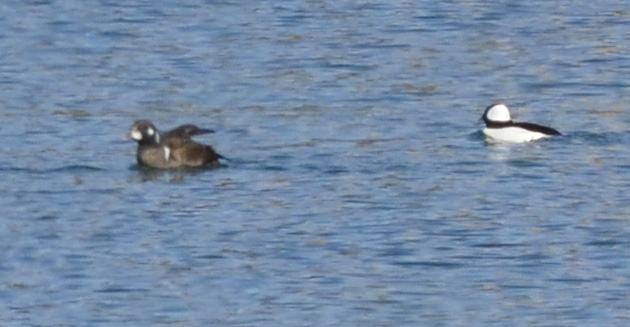 The Harlequin is on the left. If the photo was clearer, you would see the three white markings on the face, the white mark on the shoulder, the chestnut sides and the blue-ish wings. The black and white diver beside it is a male Bufflehead.
Would I have ever noticed it without the expert assistance of the Toronto Field Naturalists? I highly doubt it. If you live in the GTA I strongly encourage you to consider joining this group. There's a link to their website on the left side of this page.
What's a Harlequin Doing in Lake Ontario near Toronto?
The only Harlequins commonly found in Toronto are paperbacks. (And as an interesting aside, a pair of peregrines nested on the Harlequin office tower.) At this time of year, Harlequin ducks are most commonly in the ocean along the Atlantic and Pacific coasts. According to Peterson's Field Guide
, they usually summer in "turbulent mountain streams." Those are also in noticeably short supply in the GTA. Our duck was an unusual but warmly welcomed visitor.
According to the Nature Canada website, Harlequins eat insects, fish and marine invertebrates. Another reason to like them is that they eat blackfly larvae! There's a range map on the site too, at http://naturecanada.ca/bird_cons_harlequin.asp# if you want to take a look.


I wonder if Harlequin's eat zebra mussels? It sounds like a possibility, but I was not able to find any confirmation easily.
I hope this one finds his way back to his peers later in the spring. It was nice to see him, though, and I thank the TFN for showing him to me.
Related Reading
Join In
Have you seen a Harlequin Duck? Was it wild or was it in an aviary? Please share your experiences with a comment.