There are two birds around here that like to spiral around tree trunks in their hunt for tasty morsels. One goes up; the other head first down.
The fairly noticeable grey and white nuthatch goes down. The more drably bark-coloured brown creeper goes up.
Both live in my neighborhood but the White Breasted Nuthatches are easier to spot—or to hear. The nuthatches seem to keep up a running commentary of husky 'hanks' as they explore and hunt. The Brown Creepers flit silently and efficiently from trunk to trunk.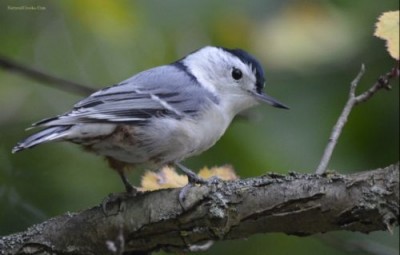 While walking home the other day, I spotted a creeper. I stood still watching as it worked its way from oak to apple to maple. On one of the maples, it found something long and white, and pulled it out of a groove in the bark. Whatever it was, it didn't last long. Then it was off to the base of the next maple to start checking around that tree trunk.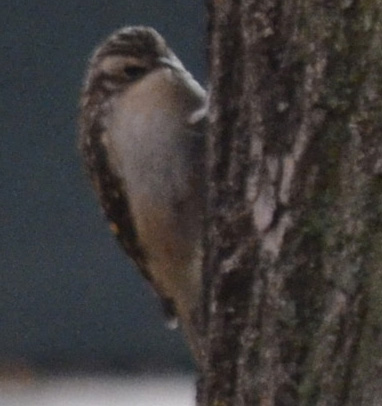 (Sorry the photo is fuzzy. It was raining again that day. What a surprise!)
Have you ever dropped something small on a carpet, maybe a pin or an earring back? Even if you get right down to carpet level, sometimes you can't see it, until you shift around and look from another direction.
I wonder if that's true of nuthatches and creepers, too. Perhaps with their differing angles of approach, they spot different insects to eat. Certainly I've seen them both feeding in the same flock, without any outward signs of aggression towards one another. Perhaps their slightly different feeding habits ensure both birds find plenty to eat, and neither bird goes hungry.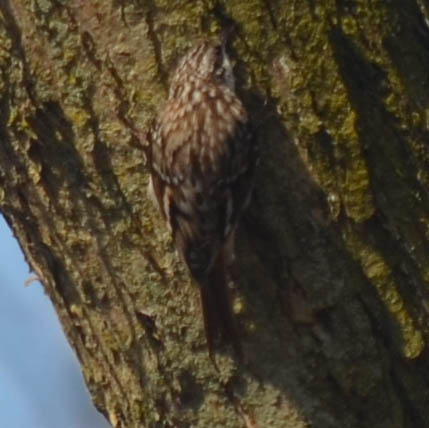 Notice how well they blend in. Also notice they use their tail a bit while climbing.
Join In
Do you have brown creepers or white breasted nuthatches visiting your trees? Have you seen any interesting behaviour? Please share your experiences with a comment.