The Canadian government decided the Canadian penny is no longer useful enough to continue making. I disagree. Pennies are perfect for giving a quick visual reference for how large a small creature is that most people can understand. Here's an example: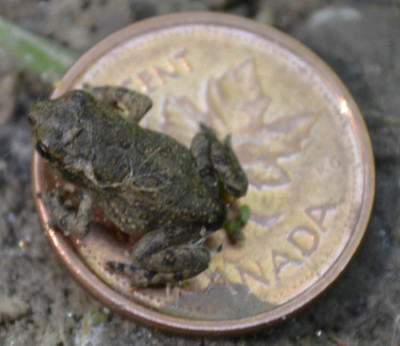 This tiny amphibian is one of the intrepid explorers venturing out from the pond in Riverwood Conservancy.
Tadpoles Transforming as Tiny Pond Shrinks Ever Smaller
It was a surprise to see how much the tadpoles habitat had changed in two short, but hot, days. No longer were they living in the dead end of a stream. Now they were in an isolated pool with two feet of muddy dirt between them and the rest of the water. Or, rather, for those tadpoles still in the pond the world was getting smaller. In fact, many of the tadpoles were gone.
They probably escaped using their own two feet, though. Even as I stopped and tentatively stepped closer, three tiny transformed tadpoles leapt away from my menacing feet. Using the clean plastic tub I brought with this time, I scooped up one of the remaining tadpoles for a closer look.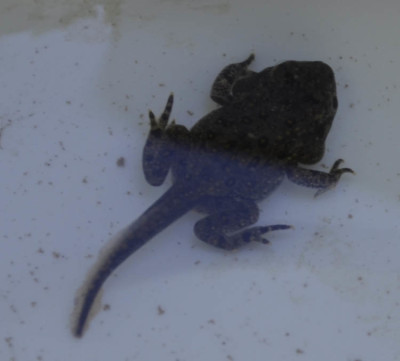 As you can see, this guy was also almost ready to leave the pool.
What are These Transformed Tadpoles?
While I still haven't received the professional confirmation I would prefer, I believe these are American Toads. Or perhaps Toadlets would be a better description.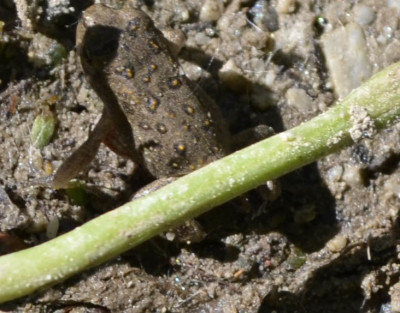 As you can see, I hope, on this photo, they appear to have not just small dot markings, but actually somewhat raised dots. I think these will continue to grow into the wart-like bumps we see on adult toads.
Judging by the number of toadlets I could spot crossing the path beside the small pond I think most of the black line of tadpoles had successfully matured and left. American Toads are very good at surviving away from water.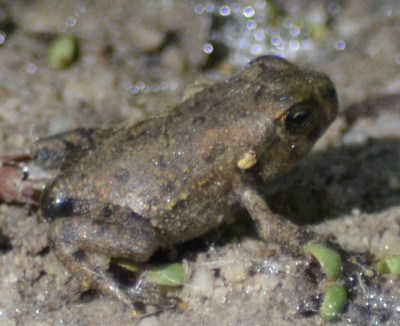 When I was next at Riverwood, 9 days later, the pond was still there thanks to some heavy rains. There were still some darning needle-sized fish in the pond but I didn't see a single tadpole. I think the Toadlets have all transformed and dispersed. And judging by the numbers of mosquitoes, deerflies, midges and gnats, they should be eating well!


Related Reading
Join In
Have you watched the transformation of tadpoles to toads? Have you ever caught a frog only to find in surprise it still has a tail? Please share your experiences with a comment.