The first week in May, I was fortunate enough to attend a Toronto Field Naturalist hike led by Dr. Charles Chaffey through the wildflower-filled forests along Sixteen Mile Creek in Oakville Ontario. I always enjoy TFN outings: I get to meet interesting people who share overlapping interests in nature, I get to visit new places and see new things, and I always learn something. This time, I was introduced to three new spring wildflowers and met some old favourites again.
Spring Beauties Blossom In Oakville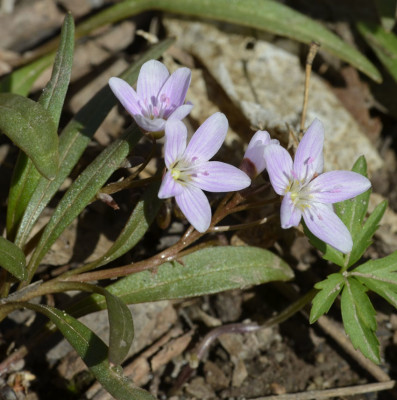 We were all trying to remember the names of the various plants we examined. Even the person who had not seen them before agreed it would be easy to remember the Spring Beauties as their name fits them perfectly.
The flowers on different plants varied from white to light pink. We agreed that we would need more information on the leaves and other differences before we would risk deciding if these were the Carolina Spring Beauty or Narrow-leaved Spring Beauty or type.
White Trout Lilies in Profusion Near Toronto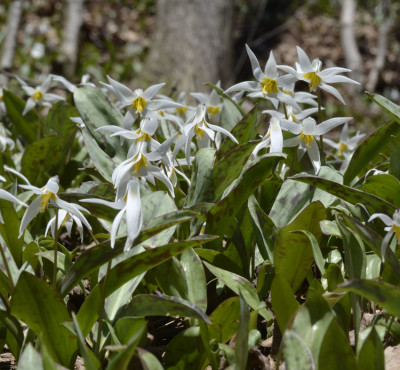 I've seen the white species of Trout Lilies, Erythronium albidum, at Bronte Creek Provincial Park and at Riverwood Conservancy in Mississauga. I've never seen so many in one place as we saw on a south-west facing slope of one of the hills on the east side of Sixteen Mile Creek.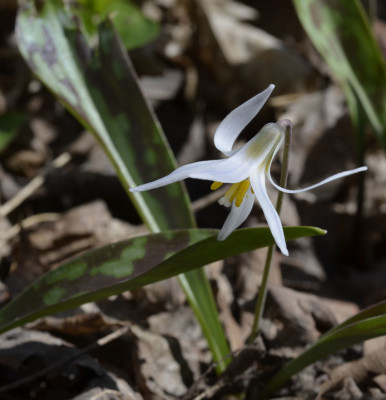 Other slopes were dappled with the more familiar Yellow Trout Lilies, Erythronium americanum. We called these Dog-toothed Violets when I was a child but the preferred name has gradually switched. According to the ROM Field Guide, the "dog tooth" refers to the shape of the root and the "trout" refers to the speckled pattern on the leaves.
Virginia Bluebells Will Bloom Soon
I'm used to seeing carpets of blue Scilla blossoming in the Rattray Marsh and Riverwood Conservancy. These garden-escapees have small round bulbs that spread quickly and do well under trees. They are almost finished flowering now and soon only their grass-like leaves will remain. The entire plants are only a finger-length tall, at most.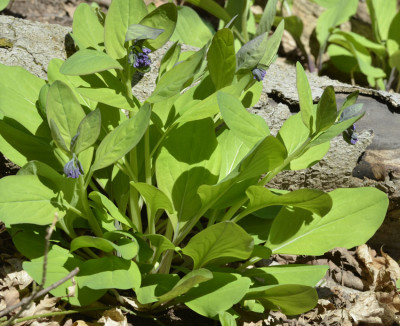 The leaves are large, tall, lush and noticeable.
The Bluebells we saw in bud at Sixteen Mile Creek are a native plant. The leaves a big and fleshy and vaguely reminded me of sweet peas or a succulent. In fact, according to the ROM Field guide, they are a member of the Borage family. Another name is Virginia Cowslip.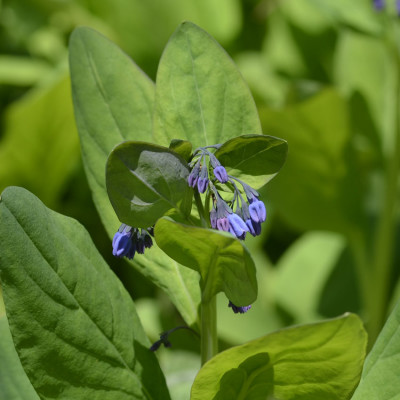 This early, the flowers are just buds, tiny hints of what's in store. While we found lots of plants to admire, none were in full bloom yet. That just means I'll have to go back in the next week or so!
An Unusual But Simple White Flower Made Spotting Twinleaf Possible
One plant that was particularly note-worthy that we took lots of photos of was Twinleaf. It has fairly plain white flowers that were on tall separate stalks from the leaves unlike many similar white flowers in the park. The leaves were distinctive. They look, as you can see, a bit like a line drawing of a pair of lungs.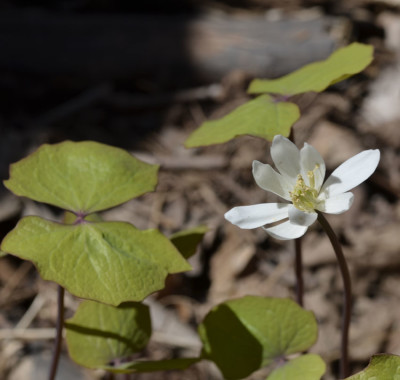 Twinleaf is a Carolinian plant which is much more common south of the Great Lakes than on this side. The US Department of Agriculture website pointed out that the plant was named after President Thomas Jefferson, Jeffersonia diphylla.
Cut-leafed Toothwort Proves a Tongue Twister
I discovered that when I try to say cut-leaved or cut-leafed toothwort, I have to slow down and think out each syllable. Who knew it could be a tongue-twister?
One of the Toothworts (there are several kinds: Cut-leaved, Slender, and Two-leaved Pepperwort) was quite common throughout the park although it varied in height and in the number of blossoms per plant making us stop to check its identity several times. I would have to go back and check the leaf arrangements to know for sure what type of toothwort we were looking at.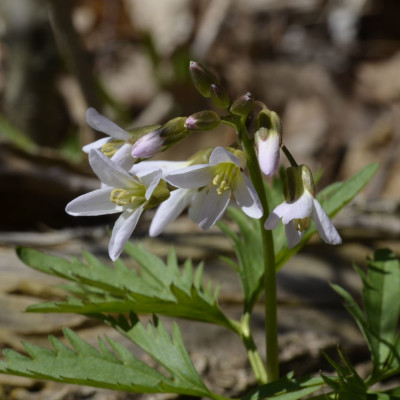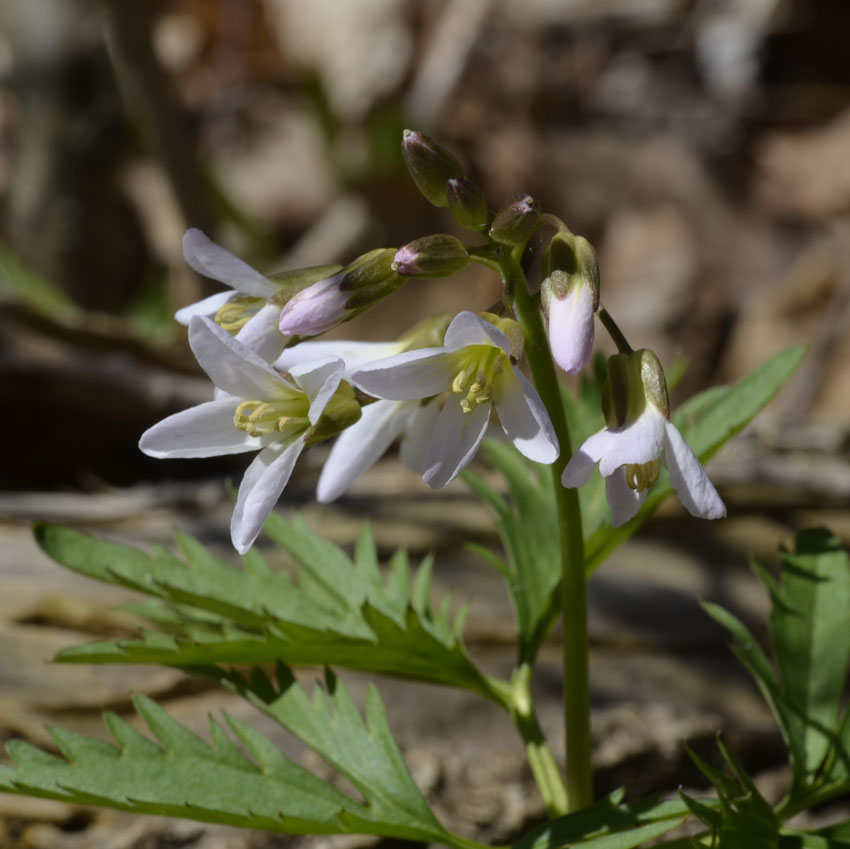 Some of the Toothwort flowers were tinged with pink.
Little Yellow Green Chandeliers On Early Meadow Rue

Male flowers of Early Meadow Rue
The flowers of Early Meadow Rue remind me of tassels, fringe and certain types of crystal chandeliers. The leaves remind me of those of Columbines. Many people never notice the flowers because they are not particularly large or bright.
What I never noticed is that there are two types of flowers on Early Meadow Rue. The ones I knew about, the tassel ones, are the Male flowers.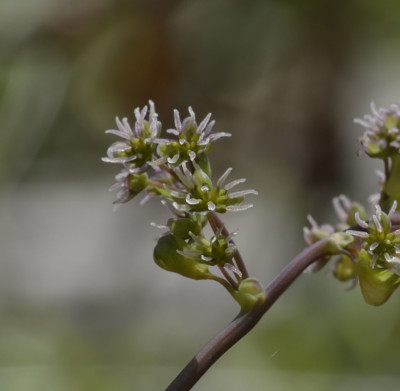 Early Meadow Rue Female Flowers
There are Female flowers on separate plants. They look more like a badly made real flower. I took some photos of them on this walk without really thinking about what I was seeing till I reviewed them at home. So I have photos of both types of flowers but more by good fortune than by good planning.
Why Did Dutchmen Wear White Breeches?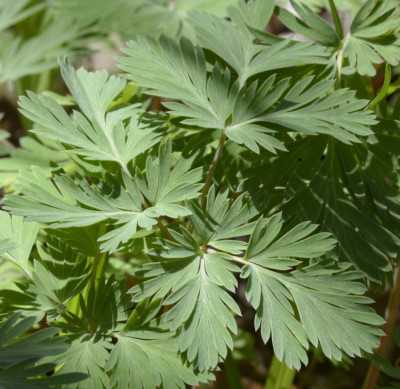 Before we found any blossoms, I spotted the very finely incised leaves of Dutchman's Breeches a few times along the trail. I haven't seen the flowers in several years, so I was quite happy to see several patches in full bloom partway through our walk.
One of the others in the group was double checking the names to make notes. English was not their first language, so repeating the name Dutchman's Breeches made me stop and think about the actual words. Breeches I can understand: the blossoms look a bit like knee-length pants or knickers perhaps puffed up by the wind while drying on the clothesline.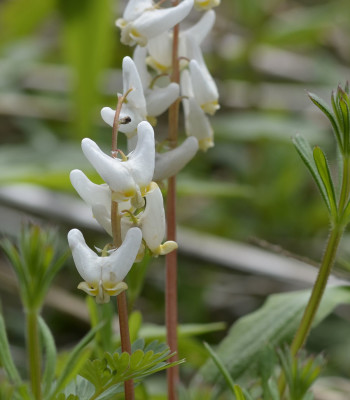 But why "Dutchman's"? Did only men from Holland wear white breeches?
Well, according to the Encyclopedia Britannica  Dutch men traditionally wore wide-legged pantaloons.
That doesn't prove, though, that other men didn't also wear them. Why had the early European settlers picked this name for the plant? I haven't found the complete answer so I'll keep wondering.
Another Unusual Plant: a Saxifrage At Sea Level!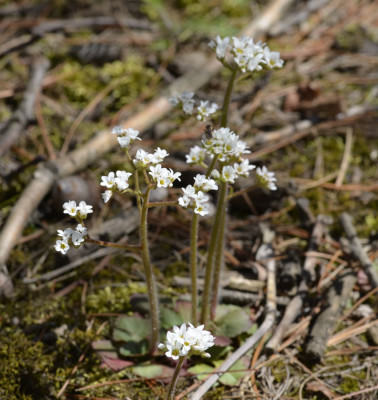 I recognized the flowers of the Saxifrage we discovered growing along the top of the cliffs on the eastern side of the park. I'd seen lots of Saxifrages before—but only in the Rocky mountains. I hadn't expected to see them here in this remnant of Carolinian forest. These were Early Saxifrage, according to the ROM Field guide.
I wondered whether they had been here since the last ice age. I'd like to find out more about that, too.
Yes, There Were Trilliums
We also saw the wildflowers you would expect in a southern park in Ontario in early May: White trilliums and Red trilliums, Bloodroot (which was nearly finished) and the leaves of Herb Robert (which has not started blooming yet), Dandelions and Coltsfoot. I'm sure I've forgotten to mention several others.
Not Everything We Encountered Had Petals or Sepals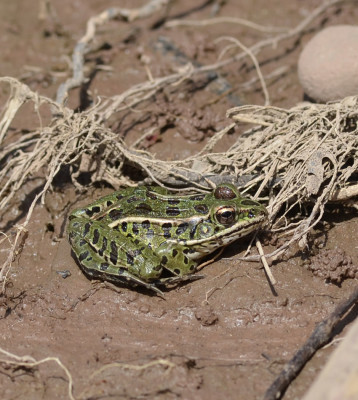 We also saw a variety of birds and animals on our ramble. There were 3 Green Frogs and 1 Leopard Frog resting on the creek bank, and another more wary frog who jumped in and swam to hide under the over hang.
Northern Rough-winged Swallows were checking out the possibilities of the holes in the banks for nesting. An Osprey carried off an unlucky snake for a mid-day snack. The Kingfisher rattled his way up and down the creek.
All In all, it was a wonderful park to explore with interesting fellow-enthusiasts!
Where Is Sixteen Mile Creek, Oakville?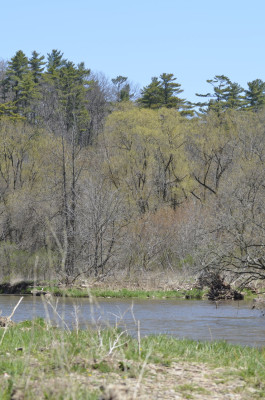 We entered the park from a small entrance on the south west side of the creek. The entrance was off Skyvalley Crescent, which in turn was off Westoak Trails Blvd. The creek runs through the bottom of a steep-sided valley carved out by a glacial stream. Getting down into the ravine and back up the eastern side of the creek required a bit of effort. There are wide well-tended paths which we stayed on to ensure these lovely flowers don't get trampled into oblivion.
Related Reading
Join In
Have you explored the paths at Sixteen Mile Creek? Or do you have another favourite spot for spring wildflower watching? Please share your views with a comment.