During the fall (and spring!) if you go for a walk along the Lake Ontario waterfront you are almost guaranteed to see a large flock of Canada Geese. Some of these geese have become year-round residents that enjoy feeding on the lawn grass and retreating to the Lake for security. If you keep an eye on the fall flock, however, you may be fortunate enough to spot a very small goose with a black head, black neck, black chest and the same dun colouring on the sides as a Canada Goose.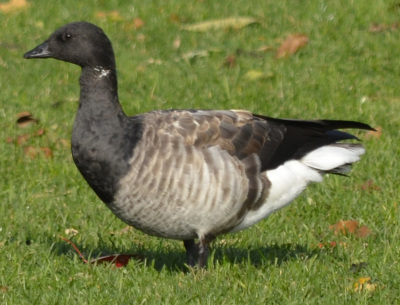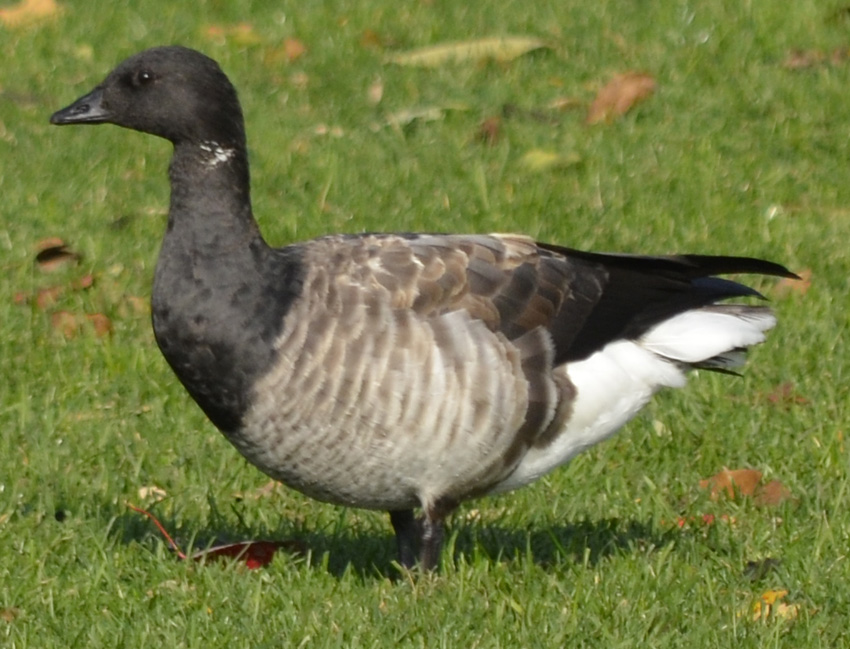 A Brant at the Foot of Brant Street
I was fortunate enough to see one of these small dark geese at Spencer Smith Park in Burlington, Ontario. I found it amusing that the park was at the foot of Brant Street since the type of goose is also a Brant.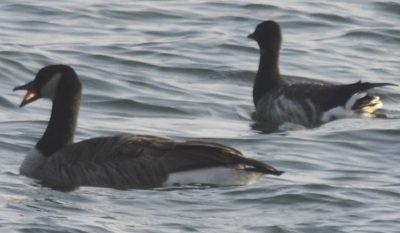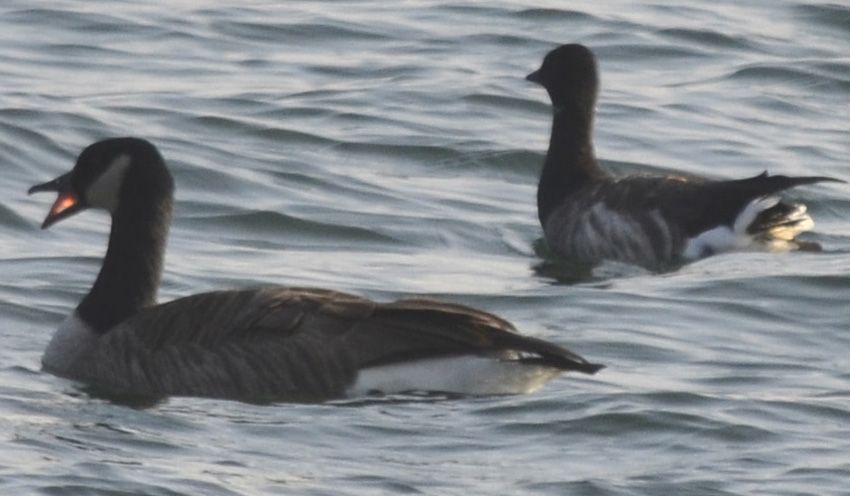 This small Canada Goose is only about 15 cm in front of the Brant.
Brant are bigger than a mallard but noticeably smaller than a Canada Goose. They breed in the high Arctic and usually winter along the Pacific and Atlantic ocean coasts. A few stop by for a visit along the Great Lakes but usually continue on to join the others at the shore.
I found it surprising that very little is reported about Brant on sites such as the Cornell University AllAboutBirds website. The lack of text suggests to me that we should be observing these birds when we can as there may be more to learn.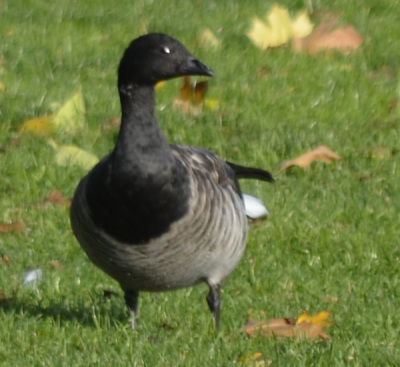 It appears that Brant may have white eyelids like Canada Geese, which makes them look alert even when their eyes are shut.
A Little Bit Lonely
I watched this particular Brant for about half an hour. During that time, it swam steadily away from a large flock of Canada Geese, then flew to join another large flock at the opposite end of the park. Restlessly, it immediately swam back towards the first set.
The entire time it was swimming, it kept looking in each direction and even appeared to be trying to listen. It would stop from time to time and turn sideways to check the other directions carefully.
It could be only my imagination but the bird gave the definite impression that it was searching for other Brant. If so, I hope it finds some friends soon.
Another Goose on the Grass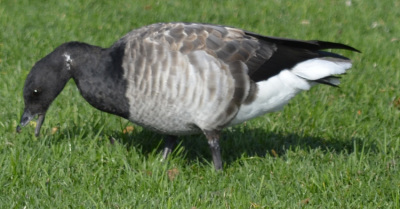 Like the Canada Geese, this Brant fed while I was there on the park's short lawn grass. I sincerely hope that the grass is not treated with any pesticides or herbicides but I'm not familiar with the park policies for Burlington.
Keep Your Eyes Out for Odd Ducks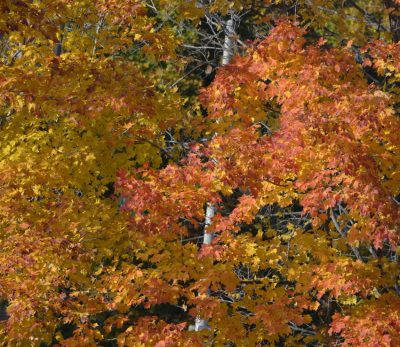 If you like to stroll along the Lake shore in autumn, perhaps to admire the turning leaves, keep your eyes on the waterfowl. You may find a Brant or two, too!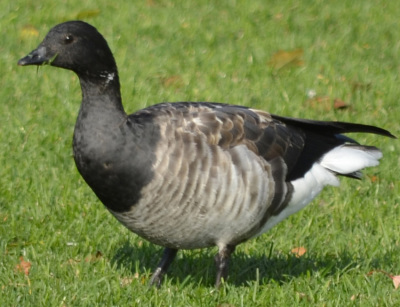 Related Reading
Join In
Have you seen a Brant or a Snow Goose among a flock of migrating Canada Geese? Please share your sighting with a comment.