While on vacation this summer we visited Nova Scotia. Aside from some wonderful encounters with shorebirds, I also found several interesting insects. This lady beetle was found on an island in the ocean about an hour's drive south of Halifax. The ladybug had large rounded black spots outlined with a very narrow yellow line.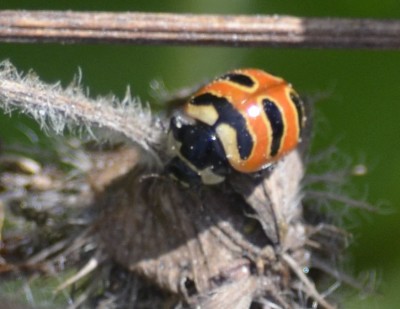 I started by looking at a website that had a mechanism to help decide on the type of lady beetle by selecting features such as the colour of the back. Before I even entered any data, however, I spotted a photo of my ladybug. A quick right click on it told me that the name was Coccinella trifasciata. When I clicked on that name on the list on the screen, it provided me with the common name of Three-Banded Lady Beetle.
Are Three Banded Lady Beetles Rare?
According to Dr. S Marshall of the University of Guelph this type of ladybug used to be widespread but its numbers may have declined. Or possibly they are still as numerous but they are not noticed as much because the introduced non-native lady beetles are so abundant.
BugGuide.net further stated that Three Banded Ladybeetles are distributed worldwide. North America, apparently, has two sub-species. BugGuide.net says the one I saw was a subspecies called Coccinella trifasciata perplexa.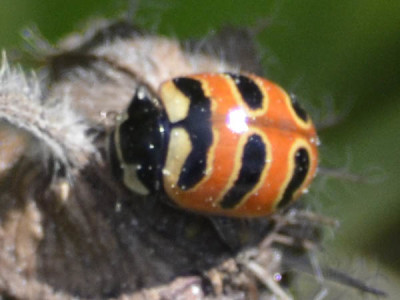 So apparently this type of Lady Beetle is not rare but it may be uncommon to see one without making an effort to look.
Is this where I should admit I only found my ladybug when I dropped a water bottle out of my bike carrier and had to stop to pick it up? I guess sometimes the best finds are the accidental ones.
Related Reading
Join In
Have you seen any interesting ladybugs? Please share your experiences with a comment.