Apparently somewhere written in Bug on the side of our house is "Winter Rental. Warm! Cozy! Safe from all predators! Apply within. No references required." I haven't found where yet, but each fall brings a new prospective tenant.
A few years ago, it was Multi-coloured Asian Lady Beetles. We had dozens of them on the white siding and three or four actually inside the house. Another year, it was box elder bugs sitting in the strawberry planters on the south side. This fall brought a new potential room mate. And frankly, it was a bit intimidating.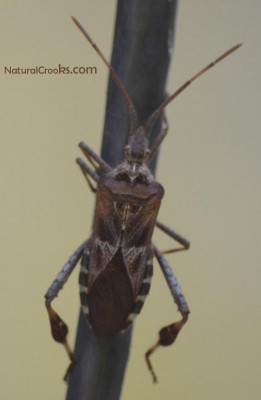 This bug is bigger than the photo suggests. It was almost an inch long (20 mm). Given its extra long legs and antennae, it also looked wide. And it was crawling up a cable at eye level when my child passed by it to check the mail box. Eeks!
Luckily, unlike the assassin bugs, this one is a harmless, if somewhat stinky, visitor. Assassin bugs have been known to bite, hard. This one doesn't bite, but if it feels threatened it can release an unpleasant odour.
I did look at photos of assassin bugs first, trying to identify it. But none of them had the extra wide leg segment that was so obvious on this bug. And their antennae all looked too flimsy.
Operating under one of my favourite strategies "If I'm seeing it, someone else is too" I checked the "Recent" id requests on BugGuide. And there was another one of these bugs, already reported and identified.
Leptoglossus occidentalis is a leaf-footed bug. Yep, I guess I'm not the only one who wondered if that extra-wide leg segment was supposed to look "leafy." On the other hand, the trees it lives in don't have leaves, in the regular sense, so I'm not sure why the legs look like that. This is a Western Conifer Seed Bug. The leaves around it normally are needles.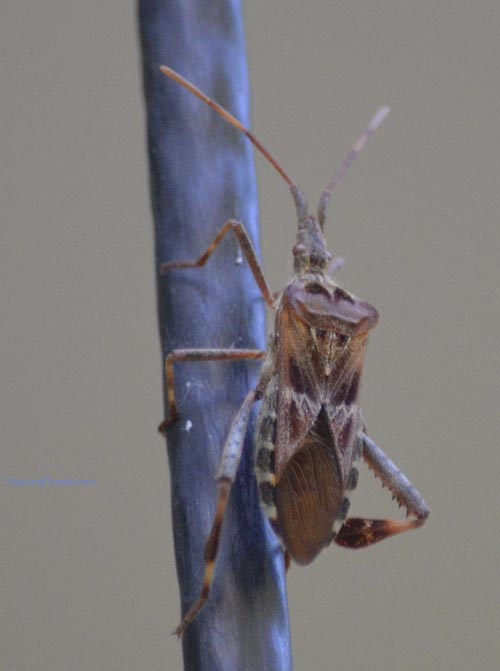 Western, You Ask?
Our Northern Walkingsticks are only found in Southern Canada. (See: Female Northern Walkingstick in Riverwood Park, Mississauga) And now I find that our Western Conifer Seed Bugs are found in New Brunswick, Québec and Ontario, which sounds more Eastern-Central to me! Since they are also found in Western Canada, I think they should consider dropping the "Western" and just calling them Conifer Seed Bugs. But the naming powers-that-be will likely just tell me that a Leptoglossus is a Leptoglossus and to start learning Latin.
Originally, Leptoglossus occidentalus was found only in the western parts of North America. They've been working their way east steadily. Recent reports on BugGuide include sightings in Maine, New Hampshire, New York, and Martha's Vineyard, Massachusetts. They have also been introduced to Europe.
Seeking Warm Winter Rest Home
These Conifer Seed Bugs usually have only one hatch of offspring a year. The adults mature in the fall and seek a sheltered hiding place till spring. Then they emerge and lay eggs on tree needles which hatch and begin the cycle again.
This tendency to look for warm hiding places makes them noticeable to people. They appear on siding and sidewalks, drawn by the escaping heat of our homes. According to BugGuide.net "Adults may wander indoors late in the season looking for shelter to spend the winter."
What do Conifer Seed Bugs Eat?
Luckily, these are herbivores. The nymphs and adults both eat sap from twigs and green cones. They will also eat seed pulp, flowers, and sometimes needles of certain types of pines, hemlock, spruce and Douglas fir trees.
This makes it a bit of a mystery bug. We don't have any conifers on our property. Our neighbours generally don't either. There is one Scotch pine not too far away, and some spruces. I suspect this means these bugs are willing to fly quite a ways to find a good winter home.
Sorry, No Rooms
As far as I am aware, this Conifer Seed Bug didn't manage to find winter accommodations in my home. Hopefully, it settled for under the porch or somewhere similar.
Further Information
For more photos and info, check out the BugGuide at http://bugguide.net/node/view/3393 .
Join In
Have you seen one of these Western Conifer Seed Bugs? Was it in the west? Or if it went any further east would it have landed in the British Isles? Please share your observations with a comment.