PEI has astonishing beaches and swallow-tunneled sandstone bluffs but I wasn't sure the Island of Anne offered any rocky tidal pools sheltering shellfish and sea stars. I posted a query on TripAdvisor but no one there could suggest where to go. Luckily, I also love lighthouses. A rain-dappled visit to the Point Prim lighthouse in mid-August 2010 was capped by the splendid discovery of shelf after shelf of shallow red sandstone rocks dotted with tidal pools.
Pools of Fascination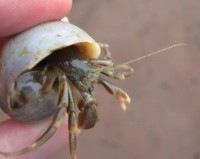 I grew up poking under rubbery, bubbly rockweed looking for tiny green crabs when visiting our ancestral island off the east coast of Canada. Older, but perhaps no wiser, I was literally astonished by the first rock pools I peered into on BC's Vancouver Island. Till then, I had thought anemones were small, delicate and spider-like. I discovered their tentacles can be as puffy and thick as a chenille car-washing mitt.
Tidal pools combine the mystery of water, weed and wave in a tiny manageable spot. You can flip sea grasses up and away. You can walk around the edge till the sun no longer shimmers off the water and you can actually see down to the bottom. And, if you're brave, you can plunge your arm into the often icy depths, and pick something up for a quick closeup.
A Fist Full of Sea Stars
Any mussel farmer in PEI can tell you that there is no shortage of sea stars in the waters around the Island. Sea stars (or starfish, for those of you who like the older name) prey on the mussels being cultivated for human consumption. Sure, a few still eat the wild mussels and clams, but most prefer the simplicity of strings of mussels provided by the local shellfish farmer.
This probably partly explains why the tidal pools at Point Prim were home to literally hundreds of starfish. The sea stars were predominantly purple, with white undersides. This made a vivid contrast to the rusty red rocks that lined the pools.
It was easy to pluck up the stars for a look, but surprisingly difficult to shoot photos. They wouldn't stay still! One arm or another would curl upwards the instant you thought you had a focus.
Still, their tiny tickles as they crept across our hands were a big hit.
Moonsnails and Hermit Crabs Inhabitants
We had found washed up washed-out moonsnails on other beaches around the Island. Here, we found vividly coloured ones, still tinted with sunset purple and pinks. However, we never got one to bring home. Every time we lifted one out of the water, a tiny angry housekeeper would surge out, waving indignant arms and antenna, demanding to be plunged back into the pool. The hermit crabs were entertaining and amusing as they scrambled around the pools, squabbling with others and searching for the perfect home. I just wished one had decided to vacate a moon snail just as we swooped in. Oh, well, maybe next time.
Other Prim Creatures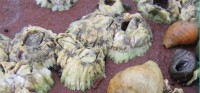 Crabs, miniature and intimidatingly large, prowled the pools. Barnacles waved tiny nets through the water, or snapped shut as the tide inched out. Periwinkles and other small snails crept across everything. We ran out of time before we ran out of shelled wonders to examine and identify. Around and amongst them grew and drifted various weeds from wide-leaved kelps to delicate grassy fronds and brittle crystalline coral-like bits.
What's That?! Books to Identify Tidal Life in PEI
If you like identifying the creatures you find in tidal pools, there are a couple of books that we found useful. (Local bookstores are well worth checking out as they keep titles in stock that are hard to find nationally.)
Where is Point Prim, PEI?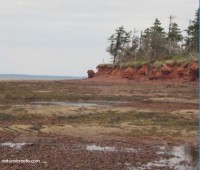 It's on the south shore of PEI. (That's the side facing New Brunswick and Nova Scotia.) It's further east than Charlottetown, in the sense that you would leave Charlottetown on a road going towards the Wood Islands ferry, rather than Summerside or the bridge. It takes about an hour to drive there from Charlottetown. (It's about 55 km of slow road.) You can check your route using Google maps, if you enter your destination as Point Prim PEI. (Be careful, there's also a Point Prim light in Nova Scotia. Who knew the Maritimes were so prim!)
The Best Time To Visit
This should be obvious, but sometimes it isn't. The only time there are rock pools to explore is when the tide is out. The rest of the time, the rocks are beneath twenty feet of ocean. So if you want to explore tidal pools, you have to go when the tide is lowering. Check local tide tables to plan your visit. (Or you could phone the lighthouse and ask.) Unfortunately, time and tides do wait for no man (or woman), so you may have to have an early supper or a late lunch if you want to explore the tidal pools.
The best time to visit is when the tide is on its way out, and has another hour or two to go before low tide. That should give you time to explore before you have to head back to shore.
Never Turn Your Back on the Tide
Just a reminder to those land-lubbers among us: If you do decide to explore this or any other beach, never turn your back on the tide. Unlike a storm, the tide slips back without any fanfare or drama. Fingers of water, first shallow, then too deep to wade, can surround you, cutting you off from shore even though you're still standing on dry ground. You don't want to decide to leave, and find that you're now on an island, a hundred yards from shore, with a fast-moving, dangerous current-filled stretch of water between you and safety.
Check your tide table before venturing out. And keep your eyes on the tide at all times.
Quick Links for Point Prim
The Point Prim Lighthouse has info at: http://pointprimlighthouse.com/wp/home/
UPDATE: July 2015
Unfortunately a recent visitor (in July 2015) has commented that they did not find any Seastars in the pools. I'm not sure if it was the time of year, the water temperature or some other change. If anyone visits and sees Starfish, please share a comment for other readers. Thank you all!