While on an April Fool's errand this year, I had a few extra minutes and decided to take a walk through the park at Humber Bay in Toronto in search of signs of spring.
Belted Kingfisher Bolts Past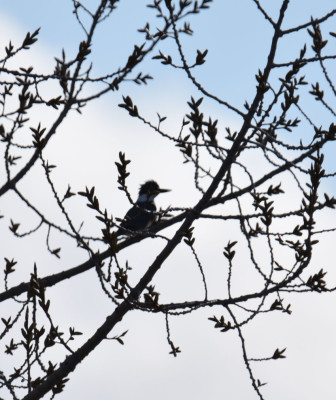 In the middle of the park, there is a small body of water that looks like a canal. It's lined with rushes, cattails and other tall plants. I've seen turtles sunning here in early spring before, so I slowed to take a look.
Instead of turtles, a Belted Kingfisher blasted by me! It gave its rattling call and shot around the perimeter of the canal before landing in one of the taller trees nearby. Although the occasional Kingfisher will winter over, this one was likely a returning bird, as there were no earlier reports on eBird. (This park and its twin, Humber Bay West, are visited by many eBird users all winter.)
Dabbling Ducks Trickling In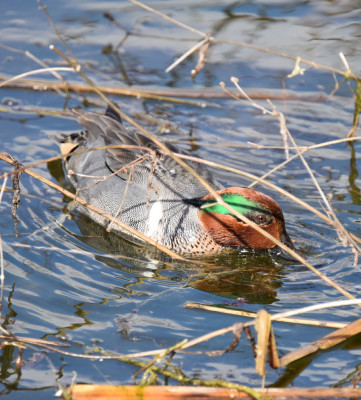 I would likely have missed this next bird, a lovely spring dabbling duck, if another birder had not mentioned it to me. It's a male Green-winged Teal all spiffed up in its spring plumage. In typical Teal fashion, he was poking around through the submerged vegetation, picking insects off the surface of the water, and occasionally dabbling. According to the AllAboutBirds website, they are looking for seeds and aquatic invertebrates.  I could see this one eating midges.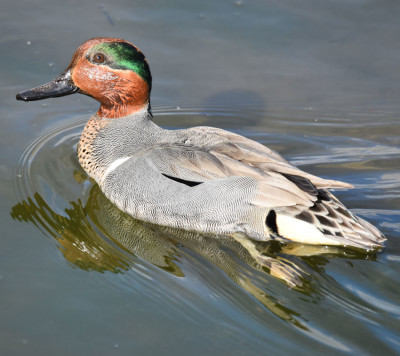 Yes, he is keeping an eye on me.
Not all of the ducks were new for spring, though. This pair of Long-tailed Ducks likely spent the winter near here but will soon be leaving.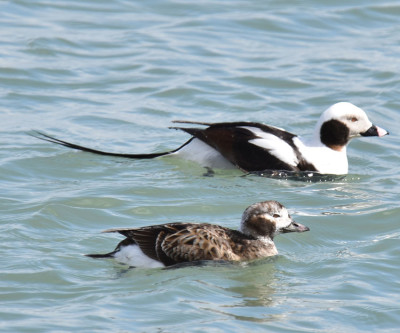 Grebes a-Plenty
There were lots of Red-necked Grebes floating, diving and sleeping on the Lake.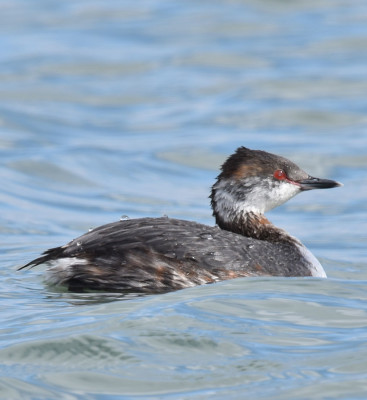 This Horned Grebe is only starting to get the yellow-orange "horn" feathers of summer.
Smaller Horned Grebes were also back. These birds are smaller than the Red-necked Grebes. Many were only starting to change into their summer plumage from their plain grey and white winter colours.
Beavers Are Back In View Now the Ice Has Melted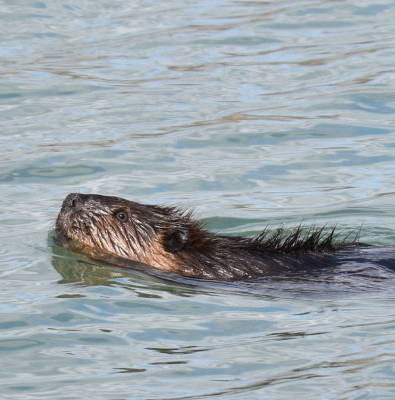 OK, the Beavers never actually went anywhere during the winter but they are easy to spot now they are up swimming around and coming ashore not just shooting around under the ice. This poor fella kept trying to find a bit of sheltered sunny shoreline to haul out on and sunbathe but I kept intruding and sending him back out into the Lake. It wasn't intentional: I was following some Kinglets and Tree Sparrows along the same stretch of shore line.
My April First visit was a short one but it was sweet to see some spring faces. I'll have to keep looking for my first turtles, though.
Related Reading
Join In
Seen anything noticeable this spring on your strolls? Please share your sighting with a comment.