Mid-week in mid-April I took a mid-day ramble through Arkendo Park in Oakville. It's a small park with a large number of habitats: a creek runs through it to meet Lake Ontario. There's some sand beach, some shingle or pobble rock beach, some small rock faces and some sand banks facing the pounding waves. The creek part of the park is well treed, with a mixture of deciduous and conifers. There's open park with goose-mown grass at one side. Although there isn't much sheltered lake right at the park, far to either side are industrial docks that provide some respite from the waves. All told it provides a wide variety of places for spring migrants to rest and refuel after crossing the lake on their long journeys north.
While winding down the wooded path through the park I first met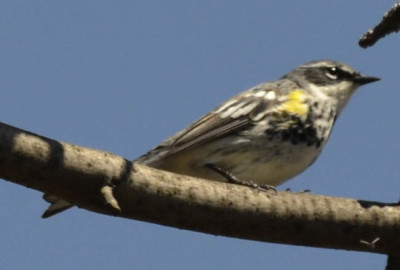 at least a pair of Yellow Rumped Warblers. I'm pretty sure there were more than 2 but given the speed with which they flew and hopped from branch to branch searching for snacks I can't be certain.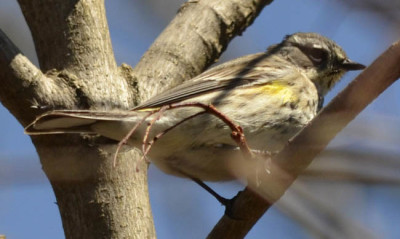 At one of several dead trees still standing in the park, I found my first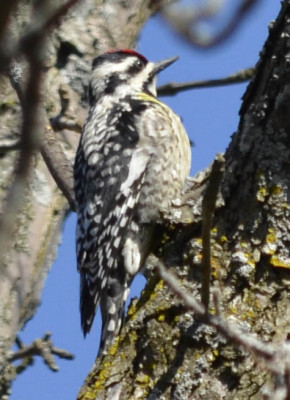 Yellow Bellied Sapsucker of spring. Although she has a red head, she does not have a redthroat patch. The male's have that. As well as sipping sap from freshly drilled holes, these birds also eat insects.
The usual Black Capped Chickadees were round and about. A Downy studiously ignored a pair of Hairy Woodpeckers flirting a few trees away. The Downy kept drilling and appeared to find a reward for his hard work. (The red cap on the Downies and Hairys is only on the males.)
A Blue Jay put in a startling appearance. It was surprising because it was quiet. Three pairs of Cardinals kept up a steady stream of calling, interrupted from time to time by the off-key random warbling of several robins.
Amidst all this ruckus, I was pleased to hear a calmer "phee wizzit, phee-whee" down near the creek edge, but on the wrong side and further upstream than I wanted to go. So while I'm sure there was an Eastern Phoebe there somewhere, I didn't actually see her. (Or him.)
There were still no leaves out on any of the trees, although a first few were tentatively unfurling on some bushes. Along the beach, some blossoming coltsfoot made a vivid yellow contrast with the sand bank.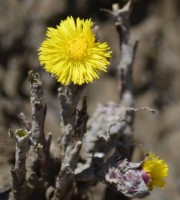 Of the native spring wildflowers I saw nary a one.
Moving out to the shore edge, I heard the distinctive rough rattling call of a kingfisher. No, two kingfishers. No several kingfishers. They exploded into view from a cliff top tree further along the shore, then arrowed after each other over the glittering waves. Arcing wide, they flew in and up to land in another large tree further down the shore.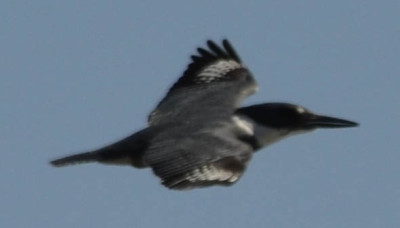 For the next 45 minutes, I paced slowly along the beach, as the kingfishers came in and out, flew in and out of the Arkendo Beach bay, and taunted me to try to get a clear focus on them with my Nikon D5100. Even in fast mode, it couldn't get a grip on them in flight. Manually focusing was a real challenge, especially since my unaided eyesight isn't as crisp as I'd like. Still, whether I got good photos or not, I got great glimpses of their behaviour.


I know there were at least 4 birds, as that's how many shot by in a string over the lake in a single-file line simultaneously at one point. There were definitely both males and females.
The female Belted Kingfishers, like this one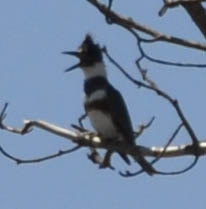 have a thick rusty red belt across their front as well as the blue one across their upper chest, and also have rust colouring at their sides.
The males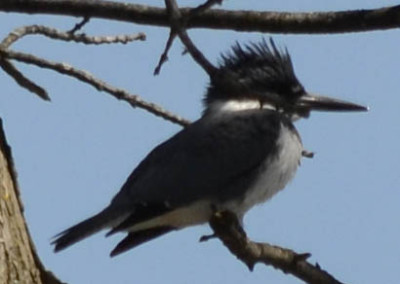 have only a singled belt of the same slate blue across their upper chest and a clear white chest below.
Somewhat to my surprise, I never saw this energetic bunch attempting to hunt. As well as fish, Belted Kingfishers will eat snakes and frogs, if they can find them.
On my loop back through the forest, I encountered at least two little Brown Creepers, although I suspect they were more than two. I know for sure that there were at least two because at one point there were  creepers rapidly climbing up the straight trunks of two separate trees about 6 feet apart, looking like they were in a race to the top.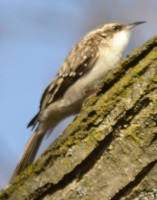 The Creepers were working very quickly and efficiently starting mid-way up medium-sized trees and working around and up and out one or more of the large branches near the top before flying on and down to start up the next trunk.
All too soon mid-day was moving into mid-afternoon and I had to abandon my surge of spring migrants and get back to work. Still it was a great break and a reminder that water isn't the only thing that forms waves that sweep over the shores of Lake Ontario.
Related Reading
Join In
Have you noticed any spring migrants flitting through your forests? Are there any spring arrivals you wait for each year? Please share your experiences with a comment.