This spring we've had some bone-chilling winds on otherwise beautiful blue-skied days. On one such morning, I found a flock of swallows taking shelter in the lower branches of some shrubs beside a sandy bay in Mississauga. Moving quietly past them, then towards them along the shore, I took a few photos to remember the glittering colourful sight.
Will Swallows Share Shelter?
What first caught my eye was the contrasting colours of the small birds seeking shelter in the sun and out of the wind in just two of a long row on bushes along the shore.
Barn, Tree and Northern Rough-Winged Swallows were sitting, reasonably amicably, wing by tail. They did not segregate by species nor did they seem to be aggressive towards each other.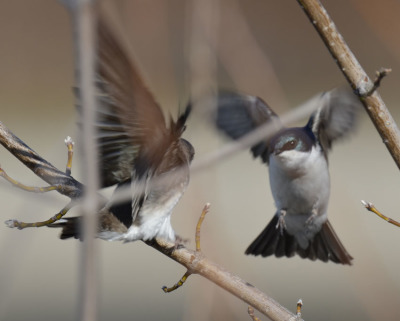 Sometimes two birds would try to land at the same spot.
Were the Swallows Silent?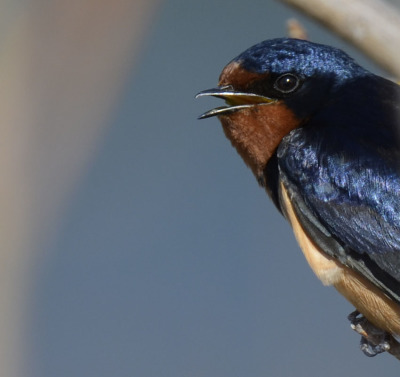 This Barn Swallow had a lot to say.
On the contrary, they were noisy! A steady stream of arriving and departing birds didn't interrupt the chirps and chitters as dozens of birds spoke. I don't know if they were bad mouthing the weather or discussing the tasty insects they had just caught swarming above the Lake Ontario waves. It was interesting to hear the different kinds of calls all at the same time.
Were Any Common Swallows Missing?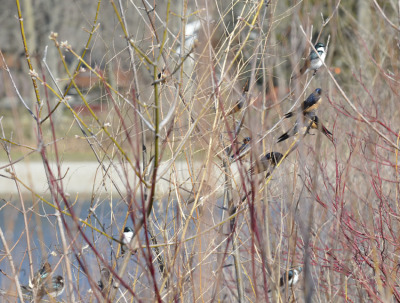 The swallows all perched together and not very far apart.
The only swallow I didn't see was the Cliff Swallow. I suspect they don't arrive back quite as early as these three. There are also occasional reports of Bank Swallows in Mississauga and I did not see any of those, either. Of course, I didn't stay long as the birds needed their peaceful respite out of the weather so I may have missed some.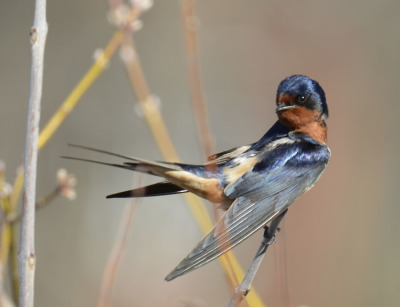 Barn Swallows are the only Ontario swallows with the long double-pointed "swallow" tail.
Always Look Around the Bend
I hadn't expected to see any swallows up close on this particular walk. I had debated going on around a bend in the bay since it was cold and windy and the only birds seemed to be dozens of Ring Billed Gulls. I'm glad I kept going, though, or I would have missed the chance of seeing this colourful social set.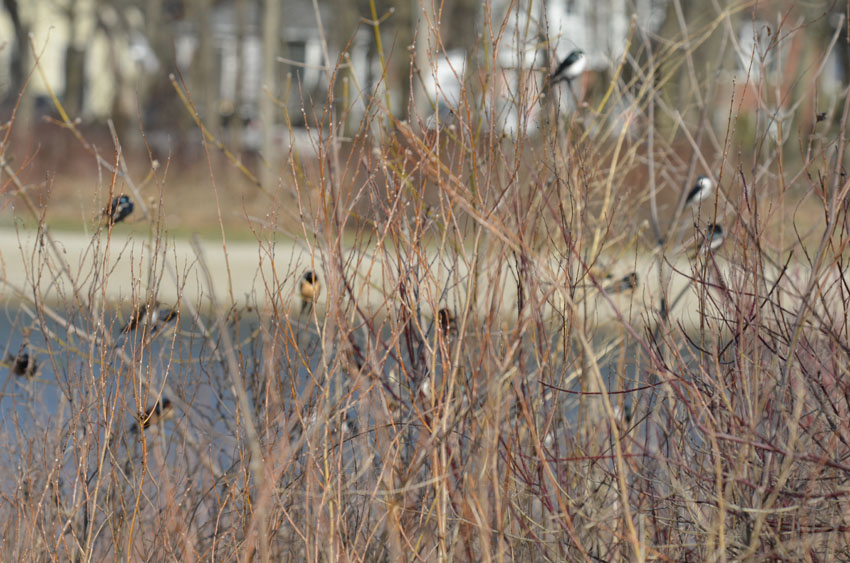 Related Reading
Join In
Do you have swallows nesting near your home? Which types have you seen recently? Please share your sighting with a comment.