Riverwood Conservancy in Mississauga offers a large variety of habitats. From river's edge to floodplain, from formal concrete-bunkered gardens to antique woodlands, Riverwood hosts a variety of native and invasive plant species and invites an assortment of migrants to rest and recuperate. A trail of feeders encourages seed-eaters, both winged and four-footed, to linger. Here are a few of the inhabitants and visitors I met on a recent walk along the main paths.
What Does the Fox Say?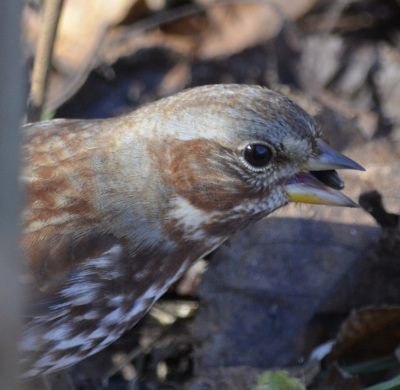 Well, in this case it says almost nothing. Although Fox Sparrows are supposed to have a lovely song the two I saw were too busy eating black oil sunflower seeds to entertain passersby.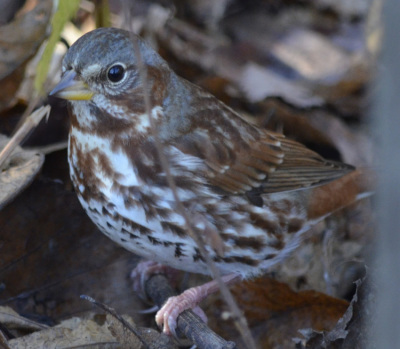 Although these photos don't show it well, these Foxes had a bright rusty-coloured tail.
The Ventriloquist Birds Are Back
Actually, the Carolina Wrens probably never left. Like the Cardinals they are year-round residents at Riverwood. They still manage to trick me when they sing, though. Their song is loud, pretty and should make finding them a breeze. Instead, I find myself looking everywhere until I suddenly spot one perched only yards away on a bare branch, a few feet above the ground, looking straight at me.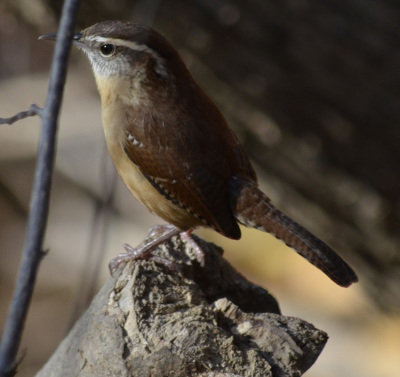 Of course, they almost always fly as soon as I lift a camera lens in their direction. Taunting me: that's what they're doing!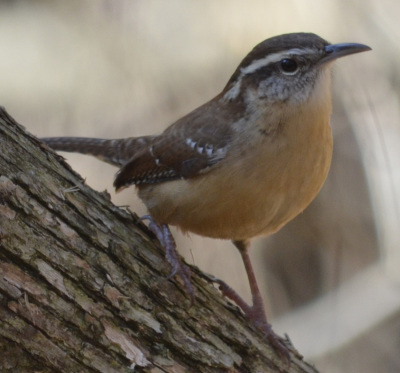 This time, however, I did get a photo of the closest of the two birds.
Defiant Dragonflies
Somewhat to my surprise, since it was the second week of November, I found 3 dragonflies during my journey. Each was soaking up the sun's warming rays: two on the fine gravel and dust roadway along the riverbed and one on the wooden boardwalk near the House Wren's nesting box.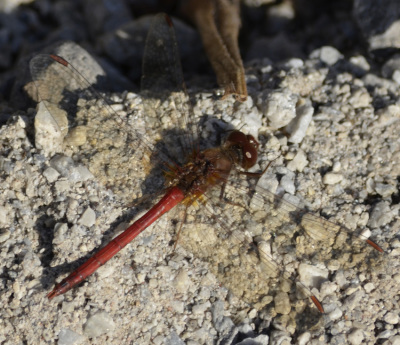 According to more knowledgeable Odonate-watchers, these are Autumn Meadowhawks. These adults are not expected to survive the winter.
A Supporting Cast of Hundreds
The other usual suspects were also present. Chickadees, Downy, Hairy and Red-Bellied Woodpeckers, White- and Red-Breasted Nuthatches, Blue Jays and Cardinals all could be found at or near the feeders.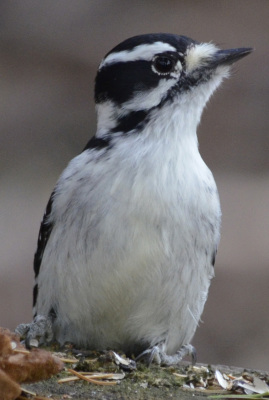 And that's not mentioning the dozens of Red, black and Gray Squirrels. But not one Chippie was still out and about.
Turkey Vultures, Red-Tailed Hawks, a Cooper's Hawk and the omnipresent Ring-Billed Gulls circled in and out of view overhead.
All in all, Riverwood was a lovely place to spend an hour in admiration of the guests and residents.
Related Reading
Join In
Have you visited a favourite park this fall? Did any particular animal or bird catch your eye? Please share your sighting with a comment.