Rather than repeatedly writing about dogs, bikes, wheelchairs and washrooms, I've summarized some of the commonly asked questions about the Rattray in this post.
Bicycles, Electric Bicycles and Motorized Bicycles
Bikes (pedal, electric or motorized) are not allowed in the park. The exception is the police patrols who sometimes ride and walk their bikes through the park.
Dogs
Dogs are allowed on leash in the park and you will probably meet a lot of them as the paths are very popular with dog owners.
Fishing
Fishing is not permitted in the park.
Hours
The park is closed between sundown and sunrise. This is a nuisance for visitors who had hoped to listen for owls and other nocturnal creatures or star watch. It is a common rule in Mississauga parks. The trails are not lit.
Lagoon and Shingle Bar
Although occasionally I have seen people walking around the lagoon after entering from the shingle bar, this is not a good idea.
According to the Land Planner for Credit Valley Conservation, "The shingle bar is an area that is sanctioned for public use, but walking off trail, along the edge of the lagoon is not permitted. As I imagine that you can appreciate, Rattray Marsh is an important habitat with many sensitive and significant species that cannot be compromised due to off trail foot traffic."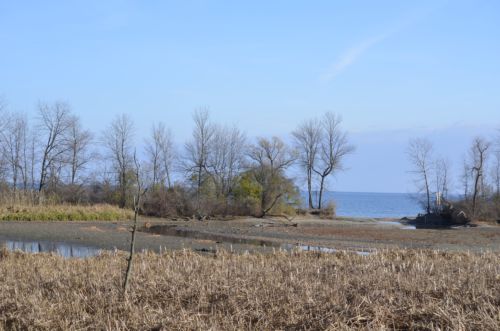 Map
A map is available at
http://www.creditvalleyca.ca/wp-content/uploads/2011/02/rattraytrailmap.pdf
Washrooms
There is no washroom inside the park. In the summer, there is a public washroom near the Jack Darling (east) end of the Rattray Park. However, that washroom is not open in the fall, winter or spring.
Wheelchairs, Stairs and Accessibility
There are several short sets of stairs on the boardwalks. Unfortunately, this means that the trails are not fully wheelchair accessible, although there is some limited access to the park. Nearby Jack Darling Park, while not particularly wild, does have more accessible paths.
Parking
There is very limited parking for the Rattray. Whether you can find parking will depend in part on when you want to visit.
Parking at Jack Darling to Visit the Rattray Marsh
The Rattray Marsh Park adjoins the Jack Darling recreational park.
Jack Darling is a spacious park with green grassy picnic fields, white sand beaches with unsupervised swimming, a splash pad of sprinklers, rocky peninsulas for sail boat watching, two children's playgrounds, washrooms, bbq equipment, and paved gentle lakeside paths for walking and cycling.
Jack Darling is very busy on summer weekends, especially on long weekends. Although it has two parking lots, on these busy weekends, both lots can be full by 11 a.m. And since people are often settling in for a picnic and games, they may stay until the park closes at sunset.
On weekdays and in the spring and fall, however, there is usually parking available at Jack Darling.
From the Jack Darling parking lots, you can walk along the paved pathway to the west end of the park. There you can walk on in to the eastern end of the paths through the Rattray Marsh.


Parking on Old Poplar Row
There are 3 parking spaces near where a trail that starts from Old Poplar Row road. There is also some street parking near this entrance to the park. Although the spots can all be in use on a very busy summer day, there usually is a spot available.
Note: This trail begins at where Old Poplar Row turns a right angle and becomes Watersedge Road.
Parking near Green Glade School
Green Glade Public School is at the end of Green Glade road. There are three trails that lead from near the school into the Rattray Park. Two are from the back field of the school. The other, more used path begins from Green Glade road.
Street parking is permitted along Green Glade road. Except when school is in session, it is a fairly quiet residential road.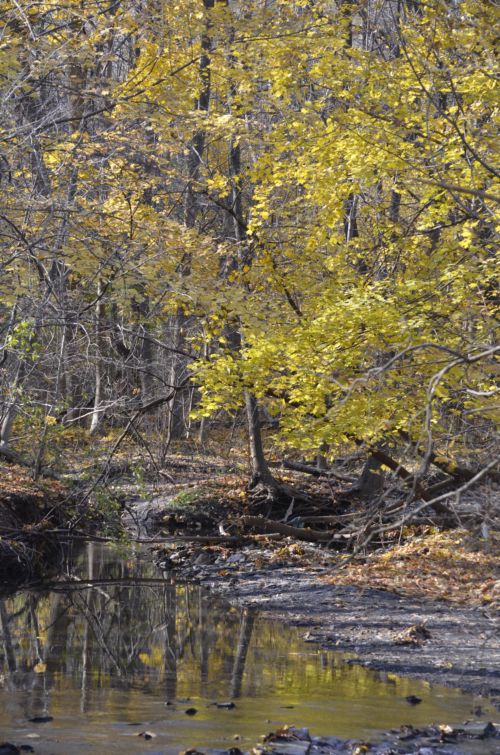 Parking near Meadow Wood Road
There is a large entrance off Meadow Wood Road. This is a fast-paced road, however, and quite narrow. There are no paved shoulders near the park entrance. There is room for one vehicle to park at an odd angle, but it seems to be meant more for a service vehicle to park to empty the trash bin. I would not recommend parking at this entrance. It opens onto a lovely wooded walking trail, though, for those arriving on foot.
Parking near Stonehaven Drive
It can be difficult to find your way back to the Stonehaven Drive entrance from inside the park. I know, because I met a group who had parked there but were having trouble finding their way back! I did not find this minor entrance, so I'm not sure what the parking conditions are like.
Parking near Silver Birch Trail
Silver Birch Trail and the nearby roads are very quiet residential streets. There is some street parking at this entrance. There is no actual parking lot.
Parking near Bexhill Road
In fall 2012, there was some construction underway on Bexhill Road. It did not look like it would take more than a few months to complete.
There is no parking lot at the Bexhill Road entrance, although there is a spot where maintenance vehicles pull in. It is clearly marked as an Emergency Vehicle route, so parking there would result in a large fine and probably a tow. On the road itself, which is a quiet residential street, there is some street parking.
The Rattray Marsh map suggests Bexhill Road is a handicapped entrance. I disagree strongly. A predominantly dirt, with some loose gravel, road leads into the park from Bexhill Road. This road was badly washed out into deep grooves in the fall of 2012. It was also steep enough that it would not be particularly easy or safe to maneuver a wheel chair or use a walker or cane to go down the hill into the park. Returning uphill might also be a problem. I would not recommend this entrance for people with limited mobility. The best entrance for someone in a wheelchair is probably the Old Poplar Row entrance. However, the park is not particularly well laid out for wheelchair access.