I keep an eye on notes posted on the Hamilton Bird Study group's Google group. Often they tip me off to which types of birds have been seen recently during migration or suggest new places to visit and explore. One that has been mentioned a few times this fall is a bird banding station at Ruthven Park National Historic Site on the Grand River in southern Ontario.  In late October, I finally had a chance to venture down #6 and visit. It turned out to be a beautiful sunny afternoon and in the sheltered dip along a small creek on the property, the air warmed to a gorgeous 20C or so, bringing out butterflies and dragonflies as well as a collection of migrating and resident birds to admire.
What Migrating Birds Were Passing through the Ruthven River Property in Late October?
The banding station is open to tag migrants moving along the Grand River during spring and fall migration. On my ramble around the grounds, I saw several familiar favourites but also a few birds which are less common in my own neighbourhood.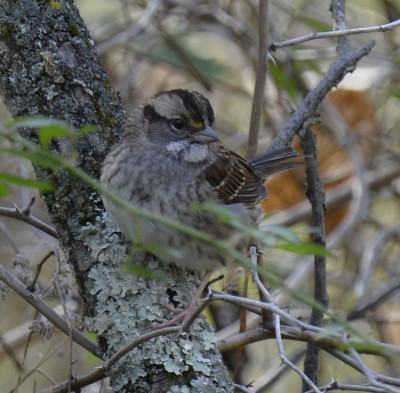 White-throated Sparrow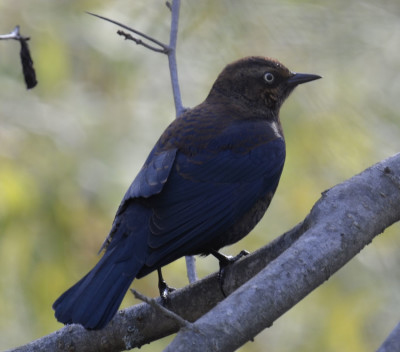 Rusty Blackbird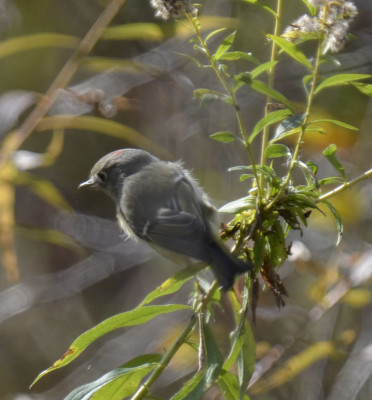 Ruby-crowned Kinglet (Hey, Mom, note the ruby crown this time!)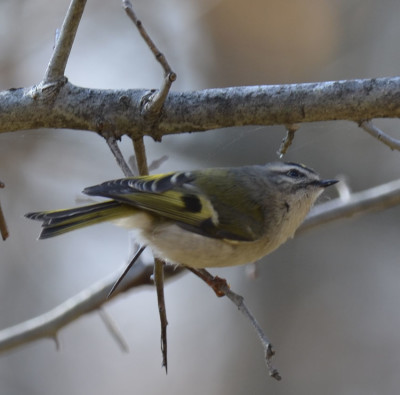 Golden-crowned Kinglet looking up at the twigs and branches for a tasty gnat.
What Resident Birds Brightened up the Grounds at Ruthven?
I also got a good look at a variety of the year-round residents including Downy, Hairy and Red-bellied Woodpeckers, Black-capped Chickadees and American Goldfinches. One very white fronted bird caught my attention as it landed briefly in a shrub near the stream: It was my first good look at a Tufted Titmouse! (Note, I did say good *look* not good photo!)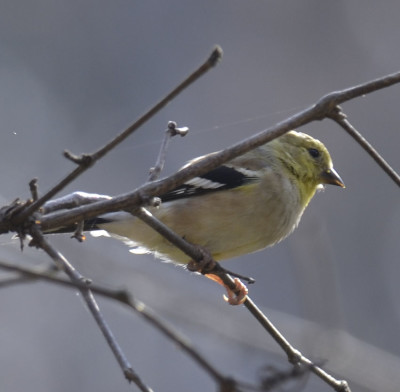 American Goldfinch losing all its lovely colours
Butterflies in Ontario in October?!
I visited Ruthven on October 22 and frankly I didn't expect to see any butterflies or moths. The weather till that day had been quite cold and wet. So I was quite pleased that as the afternoon warmed, out came some late butterflies! I saw several Sulphurs, some Cabbage Whites, a Mourning Cloak and a bright Comma or Question Mark. Pretty good for a week from November!
There were also some large Darner dragonflies, possibly Green Darners on migration, and quite a few red Meadowhawks which likely were Autumn Meadowhawks.
Reptiles Still Not Asleep In Their Hibernaculum at Ruthven
I saw several reptiles, including at least 2 Garter Snakes (I saw 5 but some may have been the same Snavely several times.) and 1 DeKay's Brown Snake. There is a man-made hibernaculum on the grounds but these guys were all sun-bathing along the sun-warmed path, not anywhere near the sleepover site.


Click to see a larger image of this Garter Snake if you are a fan.
Related Reading
Join In
Have you visited Ruthven? Please share your experience with a comment.