Last week, one of my children and I went to Riverwood Conservancy to feed the chickadees and hopefully a nuthatch or a downy. It was below zero with a nose-hair-crisping breeze so there weren't too many dog walkers or casual strollers out and about. As we neared the main buildings, I saw what might have been a crow fly down behind the retaining wall. We edged closer hoping for a photo and to our delight recognized a Pileated Woodpecker perched a few yards up from the bottom of a tree.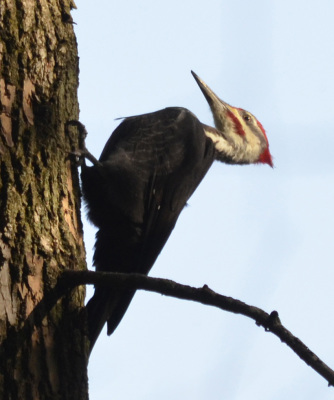 This is a male Pileated judging by the red moustache.
The bird moved from one trunk to another rapidly then flew off. I'm not sure it actually noticed us as it seemed more intent on finding a tree worth working on.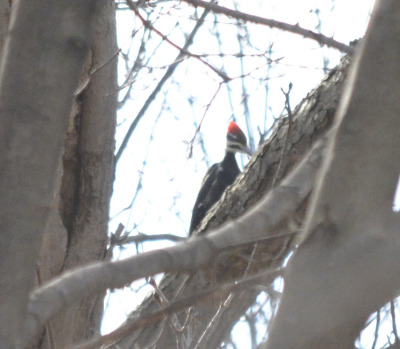 This is a female: no moustache, grey in front of crest.

Pleased, we walked cautiously along the icy trail down past the lines of spruce, over the two boardwalks and almost down to the road along the Credit River. We were a bit surprised at the sudden absence of all small birds near the second last feeder.
Until we saw a large brown form swoop down between the logs and scrub near the last feeder. When it came back up and out, the rusty tail was spread wide and the Red Tailed Hawk's identity was clear. While at this park, these birds are more often after the numerous squirrels than after the small birds, I suspect the little ones nevertheless go still and quiet till it passes.
Sure enough within a minute, a group of chickadees began calling and joined us. Despite the full feeders they were eager to hand feed. Both of us often had 2 birds on our hand at the same time!
White Breasted Nuthatches and Dark Eyed Juncos were also feeding but preferred to do so from the seeds on the flat trays and stumps. Both sexes of Downy Woodpeckers ignored the seeds but found plenty to eat working on the trunks and branches nearby. A male Cardinal watched for a few minutes but didn't approach. Three Mourning Doves whistled in, then fluttered down to the ground to eat the spilled seeds. The only small bird I didn't see was the American Tree Sparrow who often visits these feeders.
And, to our delight, we heard another woodpecker: a Pileated began to call from nearby. My child spotted it working on the branch of a fallen tree. And a few minutes later, I saw either the same one or another working its way from trunk to trunk up the hill behind us.
Has the Emerald Ash Borer Created a Boon for Pileated Woodpeckers?
I follow the reports on BirdAlert, an online tip line where people post what unusual birds they're seeing and where. In addition, reports of Christmas Bird Counts across Ontario get posted.
This year, starting in December 2014, I noticed many reports mentioning the Pileated Woodpeckers they had seen. Often they had seen more the usual.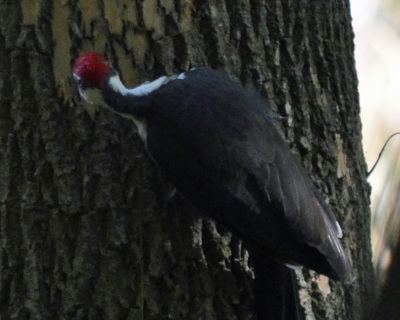 I personally had been wondering if the huge number of dead and dying Ash trees was playing a role. I soon discovered I was not alone in my speculation.
Oshawa reported a record high of 6.
Woodhouse had the same record high of 6.
Long Point had a record of 16. Ron Ridout reported "Other woodpeckers were abundant as well and may be a result of the great number of dead Ash Trees in the county."
Carleton Place also reported a record setting 16 Pileated.
Lanark Highlands had a record 14.
Prequ'ile had a record of 20 Pileated's handily beating the old record of 14. David Bree noted "Is this increase a result of Emerald Ash Borer that has recently been detected within the circle?"
St. Catharines saw Pileated Woodpecker for the second time in the history of their counts.
Certainly the Pileated Woodpeckers at the Riverwood Conservancy and at the Rattray Marsh in Mississauga can have their pick of dead and dying Ash trees. I was speaking with a forestry worker at the Rattray in the spring of 2014 and he told me that about 80% of the tree cover in the Rattray is Ash and it is all dying.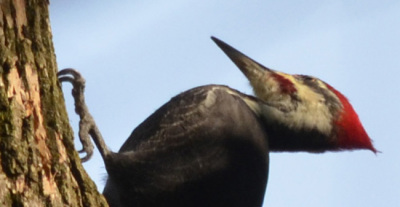 You can see the nails and bill that make hollowing out a huge chunk of tree possible.
Whatever is behind the boom in woodpeckers, it is lovely to see these birds. Their size is startling and their vivid black, white and red colouring is very appealing. I hope they will continue to thrive even after the Ash trees have yielded their last meal.
Related Reading
Join In
Have you noticed more Pileated or other woodpeckers than usual in your area? Do you also have dying Ash trees in abundance? Please share your sightings with a comment.