A week ago I watched a pair of Blue Gray Gnatcatchers dive bombing a Cowbird at a park by Lake Ontario near Toronto. I wondered if that meant they were either nesting or building a nest. (Cowbirds often lay their eggs in other birds' nests.) So today I went back to Lakeside Park to see if I could find a nest.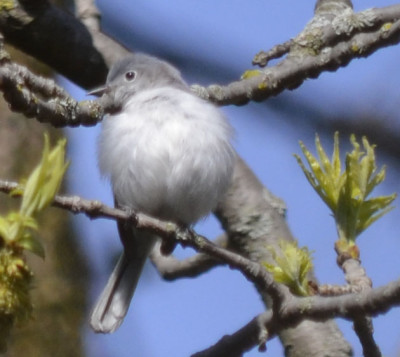 This is the female Gnatcatcher pausing for a second from her very active hunting.
Unfortunately for the Gnatcatchers, the tree branch they had been considering nesting on had fallen in a strong windstorm. The birds themselves, though, were actively calling and showing themselves in about the same part of the park.

The nest is almost at the end of the branch on the right side of the photo.
Fairly soon after I arrived, I noticed a nest almost at the end of a very long tree limb. It was a surprisingly large nest, about the size of 2 tuna cans stacked up. I took a few photos of it out of interest, but dismissed it as the nest of a larger bird. In particular, I never saw anything flying to land on the nest so I thought it wasn't in use yet.
Imagine my surprise when I checked the photos at home. Not only was the nest occupied in each photo I took (over a 30 minute interval) but it was being tended by a Blue Gray Gnatcatcher! The "birds" I kept seeing were solo while their partner was sitting on the nest.
I learned something else from this too. The male Blue Gray Gnatcatcher helps incubate the eggs or chicks.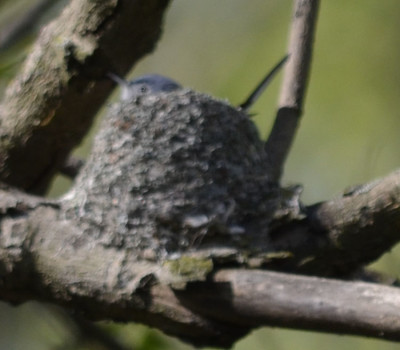 This appears to be the male Gnatcatcher keeping on top of things.
The Cornell University website confirmed that this bird likes to build its nest "far out from the trunk" on a branch. It says that 3-6 eggs are common. That means if the Cowbirds haven't managed to dump some of their eggs into the nest, there may soon be a flock of little Gnatcatchers for me to admire.


Related Reading
Join In
Have you had a pair of these feisty fighters nest in your neck of the woods? Please share your experiences with a comment.