Several Mississauga parks offer interesting fall nature walks where you can admire the changing colour of the leaves and also watch wildlife. One such park is the Rattray Marsh in Mississauga, near Toronto, Ontario. The paths are mostly packed earth or boardwalks and are somewhat accessible with a wheelchair.
When will the autumn leaves show the most colours?
The leaves begin turning as the hours of daylight shorten, although a killing frost will speed them up. So it's difficult to say in advance exactly when the best colours will be. Usually by Canadian Thanksgiving in mid-October, though, there is some lovely colour near Toronto, and more further north.
What Trees Change Colour in the Rattray?
The Rattray offers a mixed forest with everything from White Pines, that won't change at all, to golden yellow poplars.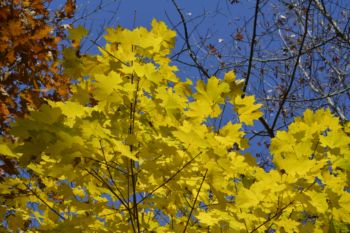 Sugar maples turn scarlet. (The colour of the Canadian flag, more or less.) Other maples, like this one in November, glow brilliant yellow. Dark green hemlocks set off the deciduous colours on the path to the Meadow Wood Road entrance.
Red oak and white oak don't actually turn red and white, they turn shades of yellow and red and to be honest most go brown.
Willow, birch and ash usually add shades of yellow. The white ash leaves can gradually turn reddish purple. Black cherry and basswood usually are pale yellows.
Beech and blue beech tree leaves start yellow and gradually darken to orange. The smooth bark of the true beeches makes an interesting contrast to the rougher barked trees.
Wildlife to Watch for
While walking is great exercise, if you want to see the most wildlife you'll need to stop and settle in for a few minutes. There aren't many benches in the Rattray, but there are quite a few fenced boardwalks where you can lean against the railing and listen for clues.
Common fall critters in the Rattray include the omnipresent grey squirrels, chipmunks and red squirrels. Blue jays make their presence known in advance with their harsh cries. Nuthatches wander from tree to tree, muttering absent-minded "hank hanks" as they move. Downy and hairy woodpeckers both tear into old tree trunks with repetitive raps. The resident mallards can usually be found mooching around the stream, or sleeping in the thin autumn sunshine.
Don't Forget to Look Down for Bears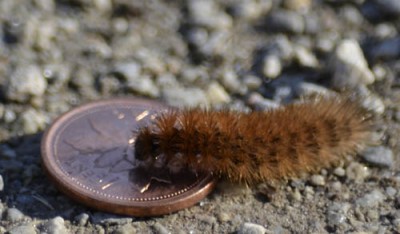 At this time of year, one of the most common bears is woolly. If you keep an eye on the paths, you may find it being crossed by fuzzy wuzzy himself. I have yet to figure out if this is
a yellow bear
a salt marsh caterpillar
or a woolly bear
If it's a woolly bear, we're going to get one of the warmest winters ever, because it doesn't have any black bands at all.
For further information about the park, including about dogs, bikes, wheelchairs and washrooms, please see the article: Things to Know about the Rattray Marsh Park in Mississauga Ontario.
Join In
Have you found a favourite spot for leaf watching near Toronto? Please share your experiences with a comment.