Near the end of summer, I decided to see what was in the air at Colonel Samuel Smith Park in Toronto. The shape of the park includes a handcuff-shaped extrusion into Lake Ontario from which many Monarch butterflies begin their tiring flight across the water on their long journey south. Some birds also funnel along the curved finger of land before heading out. And if nothing else is moving, it's a great place to admire the purples and golds of asters and goldenrod while stretching your legs for a few kiometres.
Some of Those Small-Headed Toronto Ducks Are Actually Grebes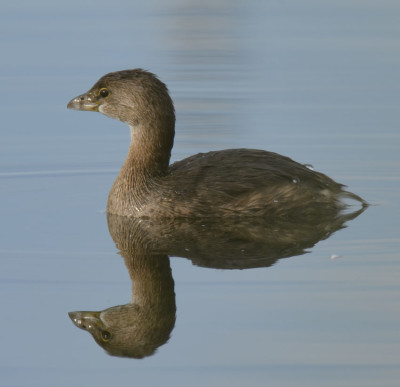 The water was so calm that this Pied-billed Grebe appears two-headed. I don't know which of us was more surprised when it emerged from its dive only a few yards from where I had eased down among the shrubs lining the shore.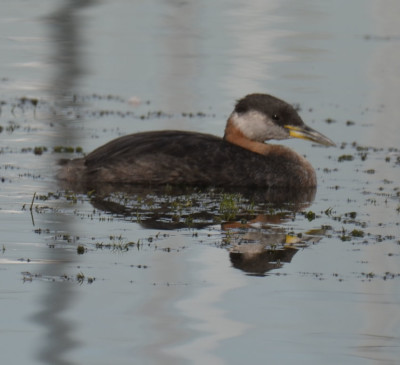 A group, quite possibly a grown family, of Red-necked Grebes floated nearby. I kept seeing others as I worked my way around the park.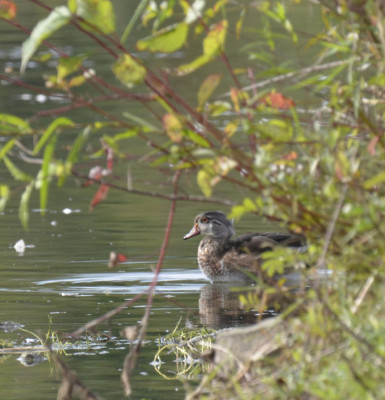 This Wood Duck kept a wary eye on me from under cover but I never tried to get closer.
This other Wood Duck was swimming in the lagoon and the red colour of the eye and the bright bill suggests that it is a male in its alternate plumage.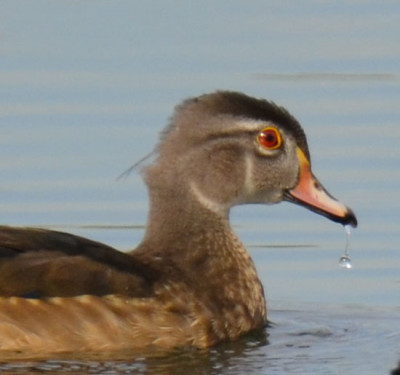 Other Birds Livened Up the Shoreline Too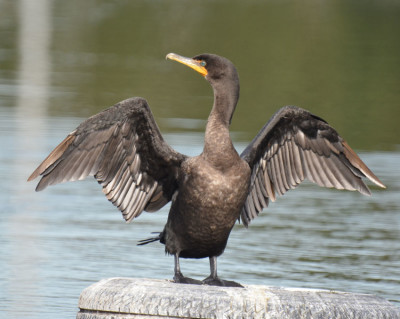 Double-crested Cormorants perched on every float and many of the larger rocks sunning or drying their wings.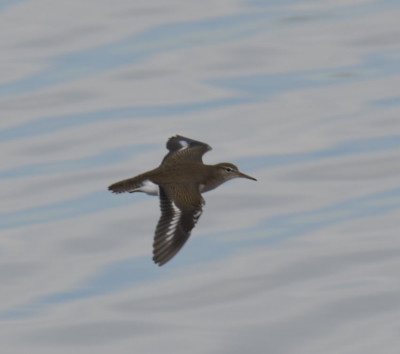 The only shorebird I saw was this one in flight. I think it is a Spotted Sandpiper. I did hear a Killdeer twice but didn't see one.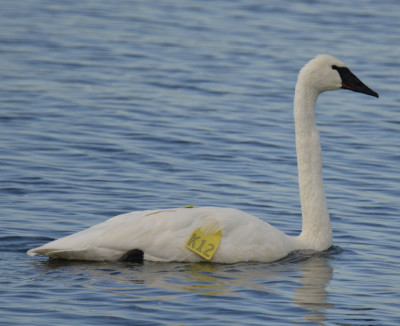 There were more Mute Swans around in the Lake than I cared to count. There was only one obvious Trumpeter Swan, though, K12.
Late Summer Sparrows Are the True "Confusing Fall" Migrants for Me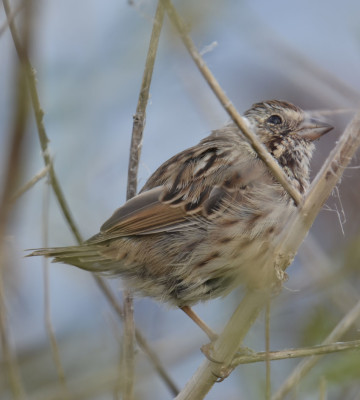 This sparrow had a very short tail. It might be a juvenile Song Sparrow but then again it might be something quite different. (I always welcome ideas in the comments!)

This Savannah Sparrow very kindly has a distinctive yellow eyebrow to help me figure out what it is. I followed this little fellow as it ate seeds and insects all the way along the footpath closest to the Lake. It snacked on something the size of a grasshopper but which did not have the right type of legs. There certainly were dozens of crickets, grasshoppers and locusts to choose from for any insect-minded birds in the area.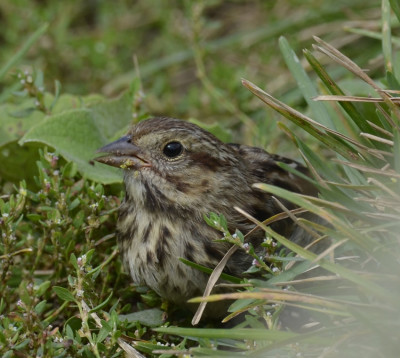 This sparrow also remains nameless. It's possible that it is a Lincoln's Sparrow but it's also possible it's a Song Sparrow or something else again!
Various Small Yellow Birds Flit Through the Bushes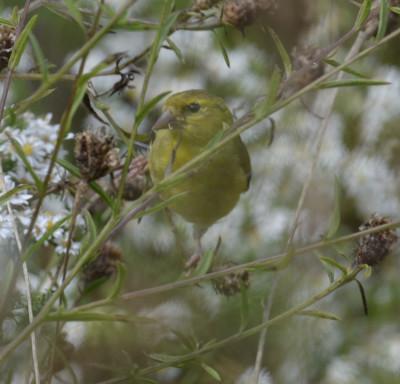 Flocks of American Goldfinches dominated the landscape. They are switching to their drab off-season colours which lets them try to fool birders into thinking they are warblers. The thick, short bill is a tip-off that they are not warblers or vireos, though.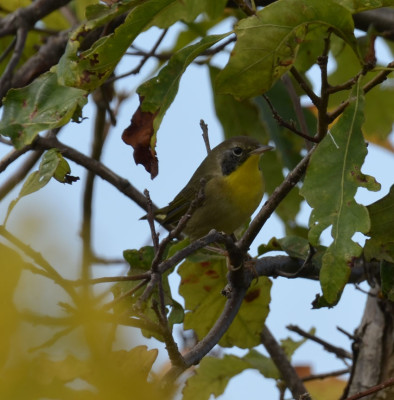 This Common Yellowthroat was a pleasant surprise. It startled up into a bush with three Song Sparrows when a dog crashed by through the goldenrod.
What Type of Winter Are the Wooly Bears Predicting for 2015?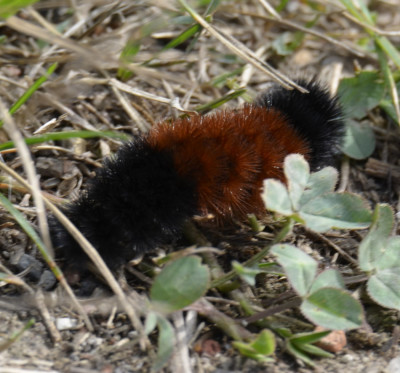 These Wooly Bears didn't get the same memo from head office: one is declaring we'll have a mild winter; the other claims it will be wicked for sure.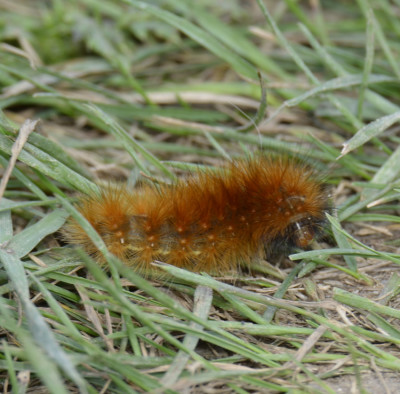 I'm going with the mild and short vote!
Lots of Insect Life Brightens Up the End-of-Summer Day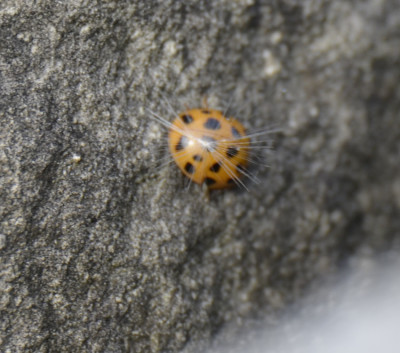 Many insects were migrating or moving seasonally besides just Monarchs. As usual, Multicoloured Asian Lady Beetles were collecting on the flowers and rocks along the Lake side of the land.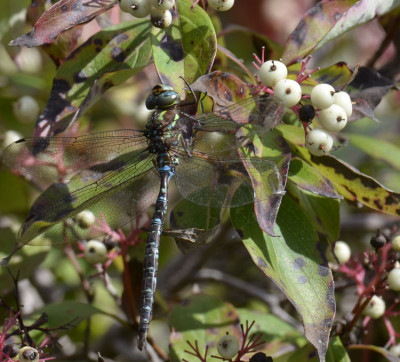 Migrating dragonflies included Black Saddlebags and Green Darners. This dragonfly was one of the few who would agree to perch, briefly, so that I could snap a photo.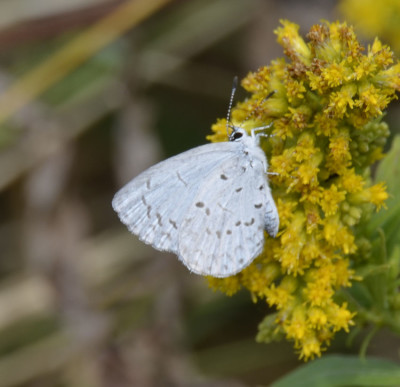 This blue butterfly remains unidentified. It does not appear to have the "tails" to be expected on an Eastern Tailed Blue but I'm not sure if it's a Summer Azure or not.
What Time of Day Is Best to See Monarchs Flying Across the Lake?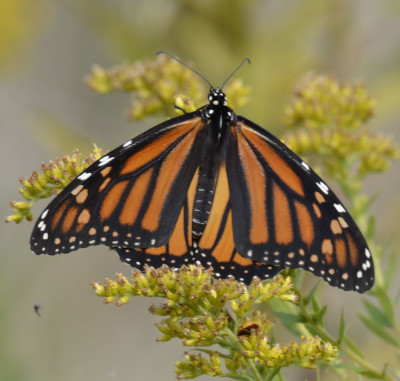 I've been at Col Sam at different times of day in the early fall. The Monarchs usually are just warming up by sunning their wings if you get there early in the morning while the chill damp of the lake still hangs in the air. By late afternoon, the butterflies seem to be busy feeding on nectar and starting to group up in perches on some of the trees. On a windy day, I haven't seen much sign of Monarchs braving the flight but on a calm day between 11 and 3, there is often an irregular but steady flow of bright orange wings moving out and over the lake.
So when I first arrived, I was content to enjoy watching the birds and insects on shore. Later on, I did see over a dozen Monarchs, each picking its own path, launch out over the Lake and keep flying steadily away till they were lost from view.
Related Reading
Join In
Do you have a favourite spot to watch the Monarchs? Please share your experiences with a comment.