Near the end of winter each year, I read on BirdAlert about people lucky enough to see a few Lapland Longspurs as they briefly visit during their migration north to the tundra and Arctic islands. I've never had the slightest idea what they looked like but I've always admired the name. So this time, when I heard a few had been seen amid a large flock of Horned Larks near Hamilton, I decided to try to see them for myself. I knew if I missed them, I would at least get to see, and hear, the colourful cheerful Larks.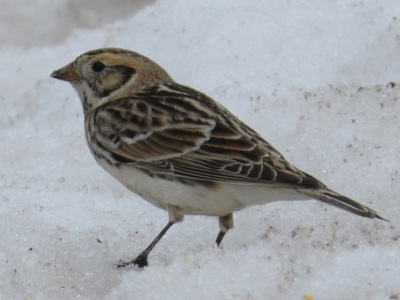 Lapland Longspur
First Migrants of Spring
Snow Buntings, Horned Larks and Lapland Longspurs are among the first migrants to pass through southern Ontario. They actually visit while there's still snow on the ground and in the corn fields. By the first day of true spring many of them have already moved through.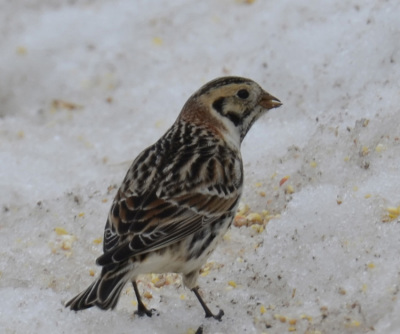 The Longspurs preferred to feed on the muddy melted ground but these ones couldn't resist some seeds spread by birders.
That meant I had to dress for the bitter wind and be prepared to stand still even when anyone sensible would have given up and moved inside. With enough layers, though, I was able to stay patrolling the road side for over 3 hours while the Larks and Longspurs (and Birders!) came and went foraging in various parts of the fields. The birds even fed at a large patch of corn and seeds some kind birders had spread at the road side. Patience was rewarded with more than 4 opportunities to see these sparrow-sized birds including two times when they were within a few dozen metres.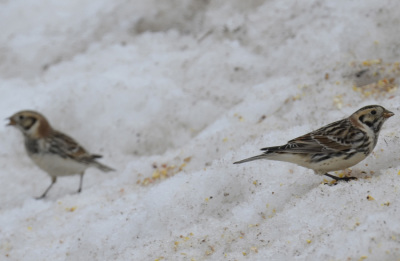 I only ever saw 2 birds at one time although there may have been more further out in the fields near Fallsview Road in Dundas, Ontario.
The light was dim that day, however, so these photos aren't as sharp as I would like.
Do Longspurs Run or Hop?
I never did satisfy myself as to whether Longspurs run across the fields like the Horned Larks, or whether they hop, like the Juncos. If anyone is sure, please let me know!
I did notice for short journeys they walked rather than hopped. According to the Boreal Bird Initiative website, they do prefer to walk or run than to hop.
While I was watching them, they tended to fly if they were moving more than a metre. I did notice that the ones I was watching had some white to their outer tail feathers when they flew although it wasn't as obvious as the white V on a Junco and it didn't make much of a field mark.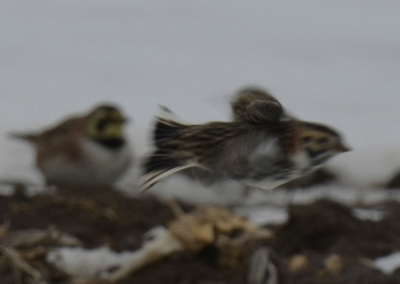 Although blurry, you can see the outer tail feathers of this flying Longspur are somewhat white.
Since I couldn't use a different gait to easily spot them in the flock, I paid more attention to their colouring. The Lapland Longspurs were noticeably darker than the Horned Larks, making it fairly easy to find them amidst several dozen running, bobbling, squabbling birds. (The Larks would periodically chase off one of their own either to claim better food or just out of bad temper.)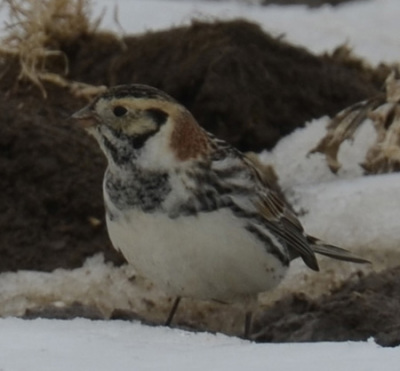 The Longspurs are also quite a bit smaller than the Larks.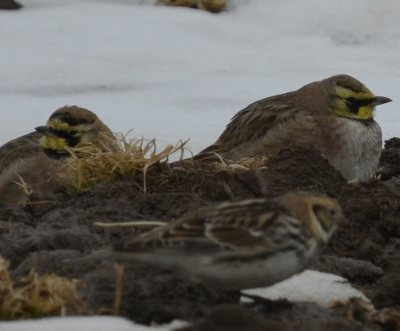 The Horned Larks in the back are noticeably bigger than the Lapland Longspurs.
Do Laplands Have Longspurs ?
I like the name Lapland Longspur. I imagine these small sparrows flocking at the feet of reindeer as they feed under the flickering northern lights in Lapland. Given the name Longspur, I tried to get a close look at their feet. This was tricky at first given the distance and their preference to feed on the melted patches of bare brown earth.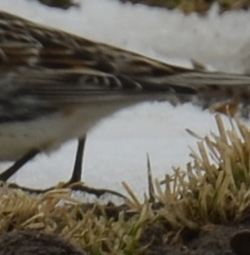 I guess that's the "long" spur?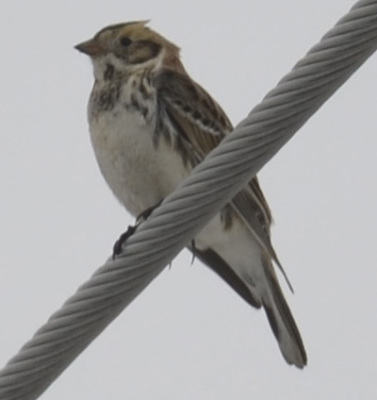 The "spur" seems to be noticeable behind the wire.
While I wouldn't claim that their nails are any more pronounced than those of some of the Horned Larks, I did see that they had some long ones. The specific nail that earns the name is supposed to be on the backwards facing toe.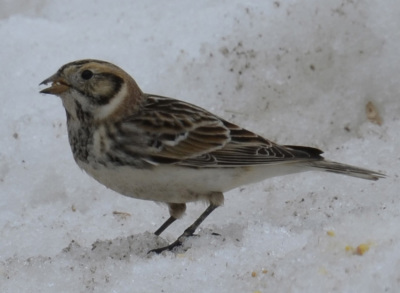 Overall, I was well pleased with my first known encounter with Lapland Longspurs. I hope they have a safe journey up to the Land of the Midnight Sun.
Related Reading
Join In
Are there any birds that you wait for each year to mark the end of winter? Please share your favourites with a comment.