During the third week of July, I took several early morning walks along a private road in the cottage countryside near Sharbot Lake. Each jaunt brought something beautiful to focus on from all the families of flora and fauna.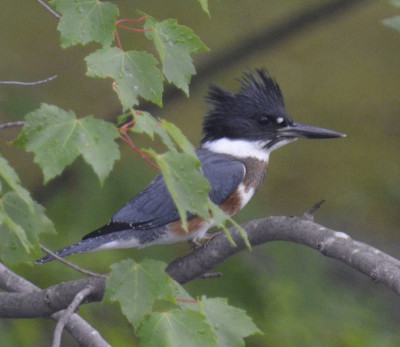 This Female Belted Kingfisher made my morning by posing in the misty light.
Wildflowers Brighten the Morning
I enjoyed seeing old familiar plants in bloom along the edges of the gravel and sand private road. Tick trefoil with its sprays of tiny pink blossoms was just starting to set seeds in just-past-mid-July. White yarrows tried to look like small Queen Anne's Laces but didn't fool anyone. Staghorn sumac's new berries glowed with a bright pinkish-red.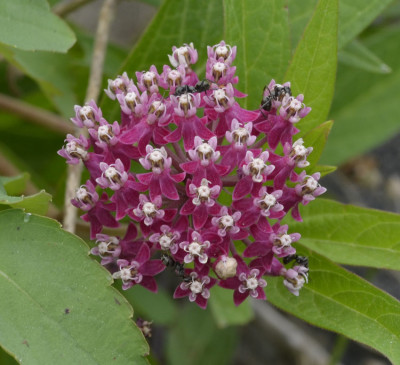 Along the border between road and water, Swamp Milkweed with its slender leaves blossomed for the pleasure of pollinators and perching dragonflies.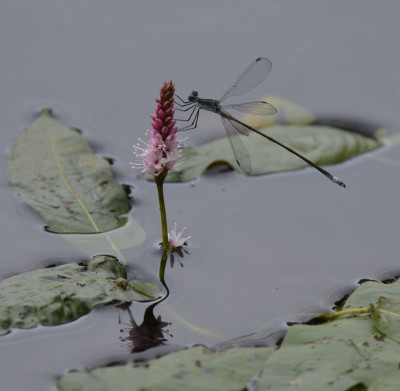 Pink Smartweed blossoms rose above their long floating leaves, each topped with a basking Damselfly waiting for a possible partner or a snack. Several small Leopard Frogs skulked among the dead leaves, long grasses, and ferns perhaps catching the tiny white moths that fluttered up in lacy clouds when I stepped amongst them.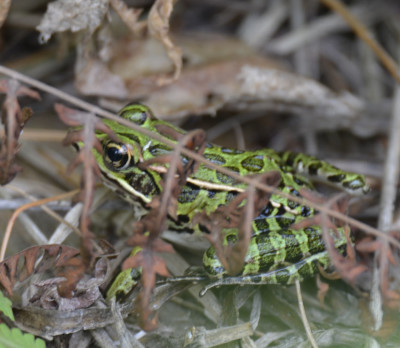 Some small purple flowers with a deep throat graced the shoreline. Their light mauve contrasted with the deep violet of the bittersweet nightshade. A few stalks of "Perth Pink" more commonly called Purple Loosestrife were providing breakfast to the bees although smaller pollinators were working on the Milkweed. Wild Mints were in bloom, their flowers tightly clustered around the stems like scarves hiding aging dowagers' necks.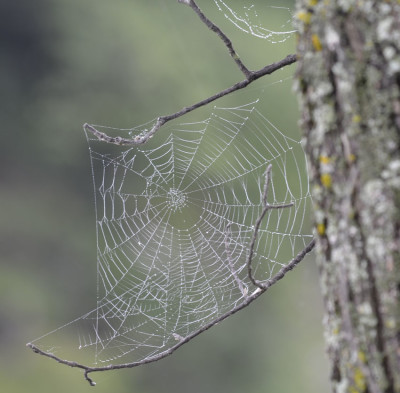 I think the rules say you have to take a photo of a web lined with dew so I always do.
One of the reeds or rushes had strange green spiky balls attached. And the first goldenrods were tentatively opening their yellow flowers to the morning sun. Daisies and fleabanes were in bloom but the jewelweed was only leaves. The Canada Anemones had dropped their fleshy white petals and the St. John's Wort looked scruffier than usual.
Turtles That Made It and Turtles That Didn't
Eventually, the road curved along the side of marshy swampy pond. The sand and fine gravel edge made tempting nesting habitat for turtles. Unfortunately, I know there had been at least two Snapping Turtle nests there because both had been dug open and the eggs split open and eaten. The curled leathery round shells bore mute witness. And a fresh print in the morning mud accused a raccoon of the act although the nests had actually been raided some time before.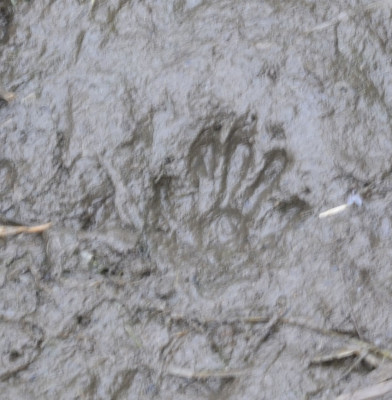 A pair of Painted Turtles had found a patch of morning sunlight to bask in although they watched me closely from their spot on a driftwood log. A Map Turtle eyed me suspiciously from a rock and I was pleased that I was able to pass it quietly enough that it was still there when I walked by almost half an hour later. (Warmth and ultraviolet light are essentials for turtles' good health and I don't like interrupting their attempts to get both.)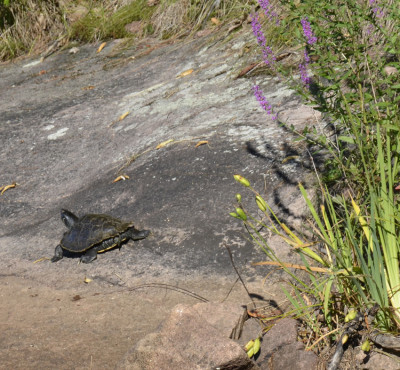 A Map Turtle basking beside Loosestrife.
A Bunch of Berries Golden Red
Returning to the drier woodland as the road looped and started up, I noticed that the berries were maturing. False Solomon's Seal berries glowed gold with tiny red speckles. Around here, the often are eaten by the wildlife before they turn truly red.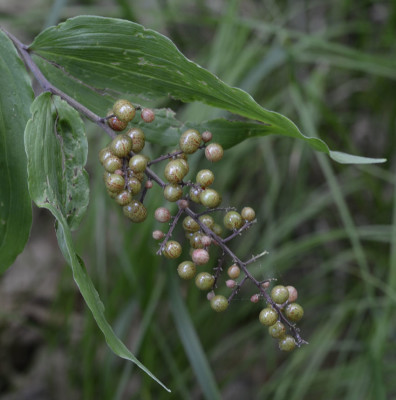 Some berries are missing already and something is also eating the leaves of this False Solomon's Seal.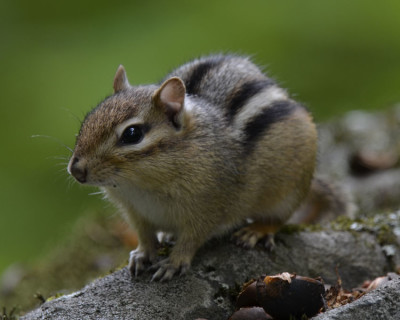 One of the suspects when berries go missing.
Another berry that is usually gone before it can turn red is on the Canada Mayflower, Maianthemum canadense. With only one or two simple leaves, these plants are not showy but the berries have always been a favourite of mine to discover hidden on the forest floor.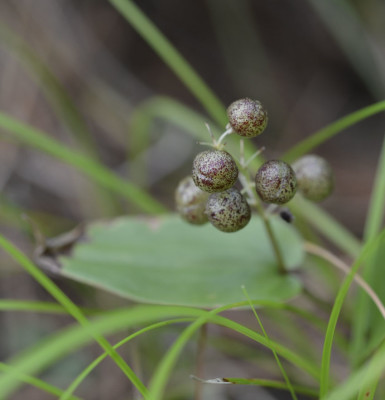 One berry that is noticeably red is one of last year's Wintergreen berries. Most of the plants are busy producing new white flowers delicately tipped with pink but this one still hadn't sold its old fruit to any passing chippies. (Or people: I like the taste of fresh ripe Wintergreen berries, too!)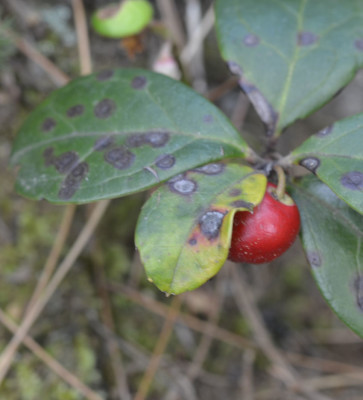 When Everything Is Interesting Any Walk Is Enjoyable
People I pass while on these rambles often ask if I'm looking for birds, or deer. I always like seeing both but there's very little I don't enjoy watching. Between the plants and the creatures living among them and even the rocks, soils and waters, there's always something wonderful to take a closer look at and maybe a photo or two.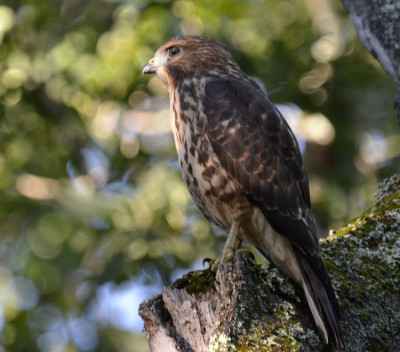 …And sometimes you see things you've never expected when they start whistling over your head.
Related Reading
What Ontario Hawk is Whistling at Me from that Tree?
Join In
Do you have a favourite wild berry or flower you look for each year? Have you seen signs of turtles nesting along a gravel road side? Please share your experience with a comment.