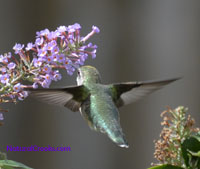 I recently posted a photo of this ruby throated hummingbird and asked whether it was a juvenile male or a female. I asked the same question at Bird Id, a valuable internet chat site that helps amateurs identify Ontario birds. I also posted it to Hummingbird Hobnob, a Yahoo chat group that helps people report sightings of ruby throats on migration, especially spring migration.
An "Old Timer" member of Bird Id replied "Juvenile male. You can see the throat feathers starting to moult."
I then spent some time looking for more information on what he meant. I found this excellent detailed information about identifying juvenile male birds on the Operation Ruby Throat website.
It appears, then, that this was a juvenile male bird. If so, come spring he will sport the shimmering red iridescent throat feathers that give the ruby throats their name.
I hope I'll see him then, but I rarely see any on their spring migration. I probably don't have the right kind of flowers to attract them. Maybe I need to find a $2.97 solution for the spring!
Useful Links:
Bird Id is one section on the Toronto and Southern Ontario Birding website at http://outdoorontario.net/birds/phpBB/
Operation Rubythroat is at http://www.rubythroat.org/
Hummingbird Hobnob email chat group is at
http://pets.groups.yahoo.com/group/HummingbirdHobnob/
Please Join In
Do you agree that this is a juvenile male bird? Or have you spotted any ruby throats recently? If so, please share your views and news with a comment.