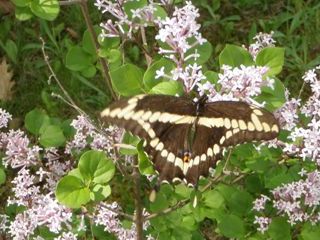 Chrome yellow Tiger Swallowtails and purply Black Swallowtails are welcomed each year in southern Ontario. However, this spring another swallowtail flitted into the flowers in the mixed forest north of Kingston, Ontario. With wings that would span a slice of bread, and sporting a vivid triangle of thick yellow lines on an almost black background, it was unmistakably a Giant Swallowtail. To prove it wasn't a fluke, several more arrived moments later.
Mild Winter and Warm Dry Spring Propel Butterfly Invasion Into Ontario
A few weeks earlier, record numbers of Red Admirals had fluttered into Ontario. Homeowners were astonished to count 50, 100, even several hundred Red Admirals hovering around blossoming trees sipping spring nectar.
This combination of temperate weather probably also promoted the conditions necessary for these Giant Swallowtails (Papilio cresphontes) to stretch north beyond their normal limits so early in the season.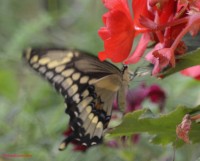 Is There Anything to Eat Around Here?
Luckily for these adventurous Giants, the spring lilacs were blooming. They tanked up on nectar to keep fueled up for the cool nights.
Later in the summer, they were investigating all the flowers both wild and domestic. In this photo, one was checking out the non-stop begonias.
Will They Lay Eggs Here?
This is a question I'm still puzzling over. The Kaufman guide suggests Giant Swallowtails prefer citrus for their larvae. Despite the warmer winters, orange trees are still in short supply in south-eastern Ontario! Other suggested host plants (torch wood, wild lime and hopwood) also don't seem likely.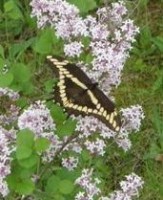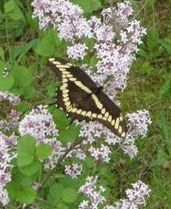 In the Point Pelee Ontario region caterpillars do successfully feed on Hop tree and Northern Prickly Ash. Prickly Ash apparently is a member of the citrus family, not the ash family. So the Giants can likely reproduce at least as far north as the Prickly Ash grow.
Where there are no suitable hosts for the caterpillars, our only hope of admiring these gentle Giants will be when mature adults decide to push the boundaries of their range with a little cross-border fluttering.
Join in
Have you seen Giant Swallowtails in your neighbourhood? Or are the Tigers and Blacks more common? Share your views and news with a Comment.
Further Reading
Butterflies of Canada
http://www.cbif.gc.ca/spp_pages/butterflies/species/GiantSwallowtail_e.php
Toronto Star article: Species Migrating North at 'Two and Three Times Faster' Than Reported at http://www.thestar.com/news/canada/article/1042003–species-migrating-no
In the Ottawa Citizen "Giant butterfly makes 'astonishing' Ottawa debut" http://www.ottawacitizen.com/technology/butterfly/6735008/story.html
Related Reading