Many of the parks in southern Ontario are now unwelcoming homes to alien invasive plants. The relatively recent arrival of garlic mustard, for instance, has resulted in some parks being overwhelmed by meadows of these tall spindly plants with foamy flowers. So it was with a suspicious mind that I looked at streams of lush green leaves and gleaming chrome yellow flowers at Riverwood Conservancy in Mississauga recently: had the park been invaded by a new type of buttercups?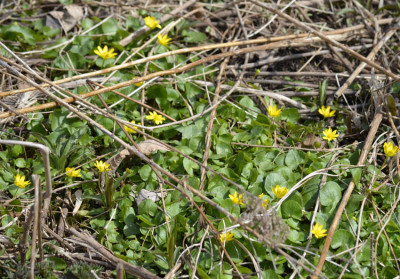 These cheerful flowers led gardeners to plant them. Too bad they've since escaped.
Check with Your Park Authority about Suspected Invasive Plants
Rather than merely guess, I wrote an email question to the park authority for Riverwood. I was hoping that the answer would be no, that it was a native species that was flourishing. After all the Dogtooth Violets, also called Trout Lilies, are widespread at Riverwood.
Having done a preliminary search on the internet, though, I was concerned that this healthy plant growing so well along the edges of every little rivulet and spring runoff creek was not native. It looked too much like a plant called, among other things, Fig Buttercup or Lesser Celandine. It has become a genuine nuisance in the USA.
Is a New Alien Plant Threatening the Native Wildflowers at Riverwood?
The email reply came more quickly than I'd like: Yes it is a newly identified invasive in the park. Yes, it is Fig Buttercup.
The Stewardship Coordinator for Riverwood replied, "We are currently mapping it at Riverwood for the first time as it has definitely spread since last year."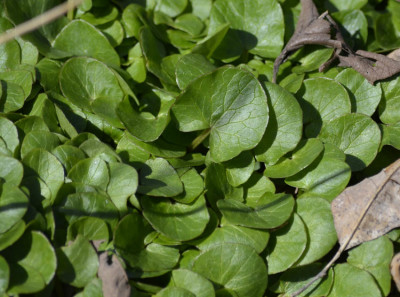 When all the other plants were still brown and shrivelled, these vibrant green leaves sounded a warning bell.
Like many invasive alien plants, Fig Buttercup gets a jump start on its competitors in the spring. In fact, if you walk in many southern Ontario parks, the healthiest, greenest plants you'll see in the spring are often Garlic Mustard and now Fig Buttercup. By growing early, they shade out competition and draw up the nutrients before the natives get a chance. Aliens like this pose a real threat to the native wildflowers that we all appreciate.
How Easy Is It to Control Fig Buttercup?
According to the USA websites it is very difficult to control. The plant creates little "bulblets" or nodules at the stem axils, each of which is capable of creating a new plant. If the plants are picked these nodules break off easily, falling to the ground and either growing there or being washed away on rainy days to new locations.
The plants also have many small tubers on the roots. Each tuber can become a new plant.
In fact, some parks have found the only way to control it is with spray herbicides. Since the plant prefers to grow along waterways and in damp soil, that's a worrying control method.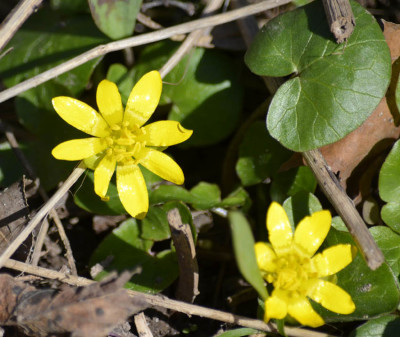 Can People Help Prevent the Spread of Fig Buttercup (also called Lesser Celandine)?
Yes.
This is still sold in some places as a garden plant. If you see it for sale, don't buy it. It is surprisingly difficult to ensure that not one nodule escapes your control.
Second, because of the nodules, it is easy for hikers and walkers to spread the plant. If you tread on it in a muddy environment in spring, you can unwittingly pick up nodules in the mud on your boots and carry them to a new location. Please clean your shoes and boots between walks in different locations.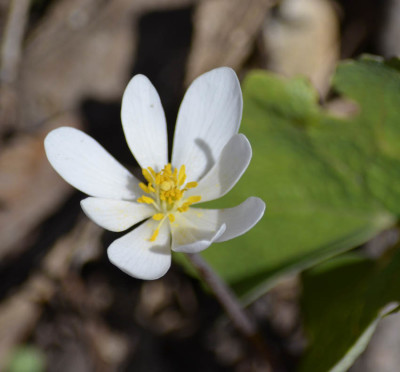 Save me!
What Is the Outlook for Riverwood?
I hope Riverwood manages to find some way to control the spread of this new invasive. It will be a definite challenge though especially in a park already struggling against garlic mustard.
Related Reading
Join In
Have you noticed this relatively new invasive creeping into your park or backyard? Please share your experiences with a comment.