There's one duck that you can identify even if you can't clearly see its colours. It has an outrageously over-sized bill. Here are a few photos to show you what I mean.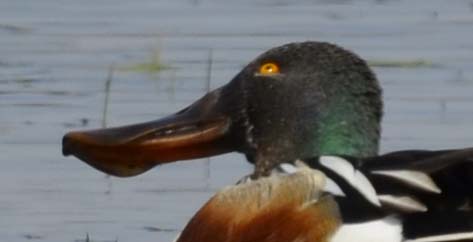 This male shows the underside of the bill is a reddish colour.
The owner of this monstrous beak is the Northern Shoveler. According to Cornell University, the bill is edged with over 100 fine projections to help it filter small invertebrates from the water when it's feeding. It also eats some fine seeds.


This female shoveler has tilted her head enough we can see the shape of the bill better. It's a distinctive orange.
The big bill is a great field mark. That is if you can ever get one of these ducks to lift its head long enough to see it!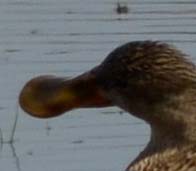 This is the female tilting her head so you can see the bill from the top looking down. You can see it's almost a spoon shape at the end.
Related Reading
Join In
Have you seen a Shoveler? Did it make your neck ache a bit just imagining holding up that bill? Please share your experiences with a comment.