If you've ever been driving along a highway in southern Ontario in the late fall or winter and have seen a large hawk perched, sometimes in a very small bush, beside the road, you may have wondered what kind it is. Whether it's the 401, the 403, the 407, the 427 or the QEW, it's likely the same kind of hawk.
Chances are it was one of these.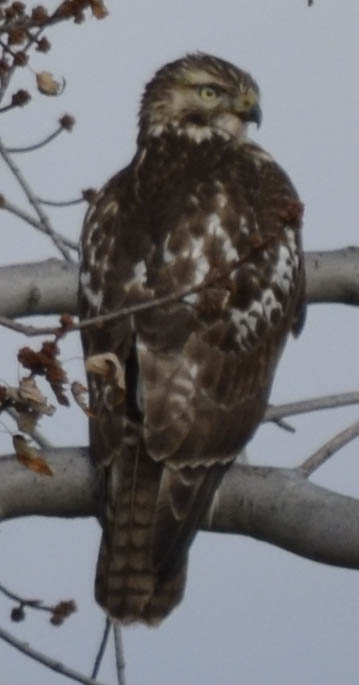 The Tail's the Thing
Now looking at the tail on this particular hawk, you may not immediately guess its name. That's because this is a juvenile and it doesn't have its adult colouring yet. You will see more juveniles than adults, however, at least in the fall before many fall victim to their own lack of hunting experience during the harsh winter, so this is not a bad example.
So What Kind of Hawk Is It Already?
This is a red tailed hawk. If it was an adult, you might see a nice rusty red tail if you were looking at the bird from the back, or from above while it swoops down and away from you.
But even if it was an adult, you still might not see the red tail. The underside of the tail is not red. So if the hawk is perched facing you, the red won't show. And also red tails have some of the most variation in colour of any North American hawk. They have almost all white phases and almost all dark phases. While the red tail can help you know you're right, the lack of a red tail doesn't mean you're wrong.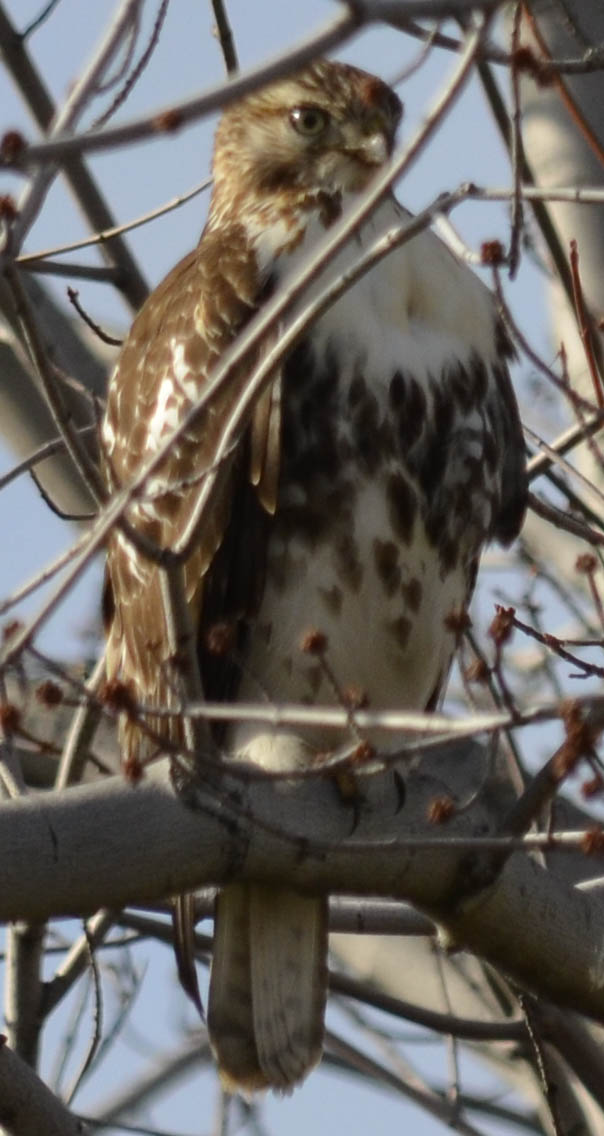 The Eyes Have It
In both of these photos, the pale yellow eyes are fairly noticeable. According to Adele Moore of the Chintimini Wildlife Rehabilitation Center, "Upon hatching, the eyes are blue, after which they turn yellow. Adult birds have brown eyes." So this is further evidence that this is a young red tailed.
Are All Ontario Highway Hawks Red Tails?
Cornell University says on their All About Birds website, "The best way to find a Red-tailed Hawk is to go for a drive, keeping your eyes peeled along fence posts and in the sky. Chances are good that the first hawk you see will be a Red-tailed Hawk." Yes, they are that widespread and that common.
These hawks live throughout North America.They are one of our most common hawks.
So while you certainly can see other hawks while driving, if it's late fall or winter, the hawk is large and perched, and you're driving on a major Ontario highway, most likely it's a red tailed.
Join In
Have you ever counted red tails while on a long drive? What's the highest number you've seen on one trip? Please share your experiences with a comment.